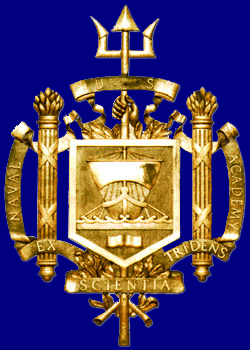 United States Naval Academy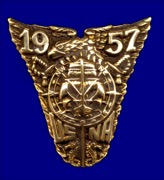 Class of 1957



This is the 28 June 2017 Rev 2 Edition of our Class Web Site. We are rolling along in the 242nd Year of our Independence and the 65th Year of our Association with Mother Bancroft.

I ask that all who have a recent photo or two, pass them along to me and I will publish all that are fit to print! I am hoping to experiment with video on the site. The first attempt will, likely, be amateurish but , hopefully, some of you will send me some video that will be a lot more professional.



What's New (or Fairly New) in This Edition



There is, on the Deceased Classmates sub-page, a current list of our now departed Classmates. It is accurate as best known to Paul and the Alumni Association as of 1 April, 2017. As always, corrections are welcome and should be sent to Paul.

There is a new sub-page under References, "Memorial Chairs in the Stadium". All are invited to review the listing for accuracy and completeness.

There is, on the Now Hear This page, a notice of reports from our sponsored Professors, a report on the recent Council of Presidents Meeting and also information as to how Classmates can obtain a copy of the book, edited by Professor Jim Bradford, being instituted as the text for the Naval History Course for Plebes.

Flash! There is a preview of parts of the 60th Reunion Scrapbook published on the Reunions Page. Bart Campbell is diligently laboring in the vineyard of computers, printers, and other sophisticated electronics to produce the Scrapbook. That document will be distributed shortly.

There is, on the "What We Do" page, several reports from various sources. We have some new contributors. Your WebMeister commends them and hopes for more of the same.

First is the straight dope on the Climbing of Herndon in June of "54 by Sam the Man!

Next is a tale of near death at sea by Frank Parker, also known as the Softball Swifty of the Eighth Company. I do not think I ever got a hit off him!

Next is Robert Phillip's Recollections of DaNang.

Next is a report by your WebMeister on his recent adventures in Durham, NC where the Ladies Lacrosse team was playing the Ladies of North Carolina, defending National Champs.

Next is a report on the recent visit by Nick Lambert to our own Jim Eddins in Southern Alabama. There is also is an interesting Essay by Jim, Wine-maker of many talents who tromps his grapes in style in Perdido, AL.

Next is a link to Robert Phillips and his adventures with his Ferrari.

Next is a report from our stalwart oarsmen, Art Wright and Roger McPherson, who took part in the World Rowing Masters Regatta(WRMR) in Copenhagen last September.

Next is a report of a visit to USNA by your WebMeister as a guest lecturer to a class of our Holder of our Chair in Naval Heritage, Nick Lambert. A fine time and a wonderful experience!!

There are two new book reviews on the History sub-page.

There is always room for adventures that any of you experience, large or small. Your WebMeister pleads for submissions, no matter how mundane your own adventure seems to you.



Photos and Reports of Activities Wanted!!!


Your Class WebMeister continues to solicit photos from all of us doing any of those things that some of us are still capable of doing!! Few, if any, travels, activities, or gatherings are too inconsequential to be shared with the Class. The Web Site is a good place to do so.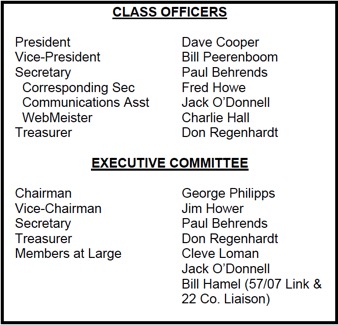 The Class of 1957 Web Site provides information on special events, reunions and other items of general interest to the Class, those associated with the Class, and other interested persons. It is not restricted nor are there any membership requirements. Comments are welcome as are notes and papers of interest to Classmates that can be published on pages such as "Now Hear This!!", "Class Events", or "Reference Info", depending on urgency and enduring nature of the information. Some information is published through links to PDF Files to provide a modicum of security/privacy. Other categories of information will be added as appropriate. Send in your suggestions to the Class WebMeister at
crhall@comcast.net
.

Here is a good place to explain some protocols. Text in
green and underlined
indicates a link to some other location or function: an e-mail to the person named, a transfer to another page, or a command to download a file, usually in PDF format. One can navigate around the Web Site by using Browser tools or by clicking on the pages listed on the Sidebar. Some pages have sub-pages which will be revealed when the arrow to the left of the page title is clicked. Take your time and wander about to your heart's content. The site content will be changed and updated from time-to-time.

Use the links on the Chat Groups Page to subscribe to any or all of our Yahoo Chat Groups, USNA57, USNA57 Photo Group, and USNA 1957 Wardroom. We use these Groups to discuss various issues and to display items of interest to the Class. All members of the Association of the USNA Class of 1957 are invited to participate. Information of a more urgent nature is passed to the Class by Jack O'Donnell using his E-Mail List of all Classmates except those who have opted out.

The Sidebar sections of the various pages will be used to display photos that might be of interest to the Class in general, or maybe portions thereof. These are not intended to be, and are likely not to be, works of art, although some will certainly pass that test. Works of art, in general, are welcomed by the
USNA57_Photo_Group
, operated by Gerry Sedor.