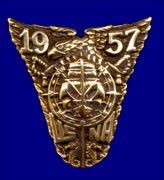 NOW HEAR THIS!!


This page provides useful information that is transitory in nature. It will be revised from time-to-time as the Class, National, and World Situation dictates. Suggestions/recommendations for items to be posted should be sent to the Class Webmeister. Contributions are both sought and welcome.


This page last up-dated on 8/11/2018.




TEMPORARY CHANGE TO OUR CORRESPONDING SECRETARY


As of now, Bill Hamel will be assuming the duties of Corresponding Secretary. This means that any material intended for publication in Shipmate should be sent to Bill at wshamel@aol.com.



AN ILLUSTRATION


The below is an illustration of the book, "America, Sea Power, and the World" that was edited by Professor Jim Bradford, Holder of our Chair for Academic Year 2012-2013. This book is now being instituted as the text for the obligatory Naval History Course for Plebes. The book is dedicated to our Class with these words:

Below the photo is a flyer that will allow our Class to obtain copies of the book at a 20% discount. Look inside the orange circle. Many thanks to Wiley for their kind show of appreciation!!


"To: Members of the United States Naval Academy Class of 1957 - They made and appreciate history"