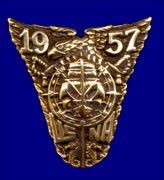 NOW HEAR THIS!!


This page provides useful information that is transitory in nature. It will be revised from time-to-time as the Class, National, and World Situation dictates. Suggestions/recommendations for items to be posted should be sent to the Class Webmeister. Contributions are both sought and welcome.


This page last up-dated on 2/17/2019.




TEMPORARY CHANGE TO OUR CORRESPONDING SECRETARY


As of now, Bill Hamel will be assuming the duties of Corresponding Secretary. This means that any material intended for publication in Shipmate should be sent to Bill at wshamel@aol.com.


Class of 1957 Legacy Naval History Books


Since the inception of our class' 50th Anniversary Gift, The Class of 1957 Chair in Naval Heritage" four books on Naval History have been published. Professor Jim Bradford edited the first, America, Sea Power and the World. Six of the holders of the Chair contributed chapters to this book which in now the official Naval History text for all midshipmen – Naval Academy and NROTC. Three Post Doctoral Fellows have brought their dissertations to publication as is the goal of that program. The first, DR. Jon Hendrickson published Crisis in the Mediterranean .Our second Post Doc, Dr. Jason W. Smith published To Master the Boundless Sea, and most recently, our third Fellow, Dr. A. Scott Mobley, '78, CAPT, USN (Ret.) published Progressives in Navy Blue. These publications will serve to remind current and future generations of naval officers and historians of the contribution our class has made to the study and appreciation of naval history.