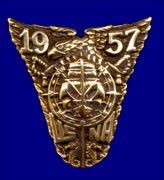 NOW HEAR THIS!!


This page provides useful information that is transitory in nature. It will be revised from time-to-time as the Class, National, and World Situation dictates. Suggestions/recommendations for items to be posted should be sent to the Class Webmeister. Contributions are both sought and welcome.


This page last up-dated on 10/13/2018.




TEMPORARY CHANGE TO OUR CORRESPONDING SECRETARY


As of now, Bill Hamel will be assuming the duties of Corresponding Secretary. This means that any material intended for publication in Shipmate should be sent to Bill at wshamel@aol.com.


Steve Sloane Sends


Watching football on TV as the Brigade of Midshipmen sang our Alma Mater I sang along out of tune, much to the chagrin of my wife Kit. I focused on the second stanza.

"Four years together by the bay where Severn meets the tide
Then by the service called away we are scattered far and wide
But still when two or three shall meet
AND OLD TALES BE RETOLD
From low to highest in the fleet
We'll pledge the Blue and Gold!"

(or something like that)

Inspired by these words a thought occurred to me. I'll bet there are many "old tales"…let's call them "Sea Stories" out there. And I'll bet many of those stories would be a fine lesson/legacy to pass along before we all "muster up above, a wearing' Navy Blue."
So……I would like to publish a book(anthology) titled "Sea Stories" based on input from those of you who might want to write up your own sea story and send it to me.

Just a thought. Please respond to me and let me know what you think. This might just be a pipe dream of mine but I would like to know what you think.

You can respond to me directly to my email at cowboy91671@gmail.com.

Steve