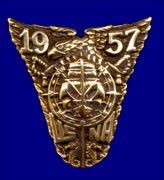 NOW HEAR THIS!!


This page provides useful information that is transitory in nature. It will be revised from time-to-time as the Class, National, and World Situation dictates. Suggestions/recommendations for items to be posted should be sent to the Class Webmeister. Contributions are both sought and welcome.


This page last up-dated on 2/15/2020.




Temporary Change to our Corresponding Secretary


As of now, Bill Hamel will be assuming the duties of Corresponding Secretary. This means that any material intended for publication in Shipmate should be sent to Bill at wshamel@aol.com.


Change to our Class and Executive Committee Secretary


Due to failing health, our Loyal and Industrious Secretary, Paul Behrends, has relinquished his office. Bart Campbell and Pete Boyne will be taking over those duties and responsibilities. Please refer any revisions to personal data to Bart and/or to Bill Peerenboom, our VP.


Another Award


Our Moon-Walking Classmate has recently been named "2020 Texan of the Year" by the Texas Legislative Conference. He will accept the award at a Special Dinner on March 26th in New Braunfels, TX. Considering all of the well-known people in Texas this is an incredibly prestigious award!! Congratulations, Charlie!! We are all very proud of you!!


The Father of a Fallen USNA Alumni Speaks


One of the recent fatalities of the Pensacola mass shootings was a young USNA Grad, Kaleb Watson, from Enterprise, Alabama near where our own Classmate Jim Eddins lives. Jim sends us the below words that Ensign Watson's father, Benjamin Watson, Jr, spoke, presumably at the funeral:

"Our family stands before you shattered, hurting, now and forever un-whole. We are overwhelmed by the love and support of our son's Naval family and the outpouring of affection from all our neighbors, coworkers, family and fellow-Americans. Thank you.

We more than understand yet are uncomfortable with the anger that is being expressed. We are convinced of the truth in the words: "do not answer evil for evil." Yet we are also convinced that the truth in those words does not mean there should be NO answer. We have always raised our family to understand the great weight of honor and responsibility in the face of every situation. And painfully, now more than ever, we believe that the answer to this great evil is greater responsibility and wisdom in the face of disaster.

At every step of Kaleb's life, we reminded him that with every advancement comes the responsibility to make a difference. We tried to remind Kaleb that true command and authority always involves compassion and consideration for both his peers and subordinates. We tried to instill that true authority is never a license for being a bully, even for the sake of upholding senseless traditions. We encouraged Kaleb to used any authority he may be given to improve methods, to correct injustices, and promote progress. We tried to convey that the chief characteristics of authority are humility and respect, not only for superiors but also for peers and those under his command. There is a responsibility to protect them and to challenge them to grow. Power can never be divorced from Responsibility – "to whom much is given, much is required." (Lk. 12:48)

Kaleb grew up in a family that honors and treasures our country's freedoms while also acknowledging our many opportunities for growth and change. Never did we imagine that his death would become one of those opportunities for self-examination for us as a nation. In this season of Hope and Joy, our pride and joy has been stolen from us. Just as we raised Kaleb to use his every opportunity of responsibility and authority to make a difference, we invite our nation to share our grief and maybe make a difference in our policies and procedures in place to keep our service men and women out of undue harm.

We are beyond proud of Kaleb. We have been informed that he met his attacker that morning. He ran toward the battle for the sake of his comrades and his nation. In his last acts of life, he saved others' lives. He answered evil with courage and responsibility unarmed, but ready all the same to face it.

Kaleb was a qualified as an Expert Marksman with small arms. He trained new Midshipmen in small arms at the United States Naval Academy. We, as a nation would have entrusted him on a battlefield somewhere with a wide array of Naval Assets, yet he was asked to answer the call of the "War on Terror" at home unprotected.

As a hurting family we ask our nation to please let the story of this young, beautiful, heroic life make us wiser and more responsible as a nation. Please let how Kaleb lived, dreamed and died inspire, empower and enlighten us as a nation not only to our treasured rights but to the wisdom, hard work and unselfishness that must accompany such privileges."