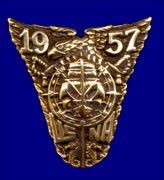 NOW HEAR THIS!!


This page provides useful information that is transitory in nature. It will be revised from time-to-time as the Class, National, and World Situation dictates. Suggestions/recommendations for items to be posted should be sent to the Class Webmeister. Contributions are both sought and welcome.


This page last up-dated on 6/28/2017.


Reports From Our Chair of Naval Heritage


First and Foremost: Both our guys , Dr. Nick Lambert and Professor Scott Mobley, have been re-appointed to serve in the same positions for the Academic Year 2017-2018. Since they have done an outstanding job, I am very happy to see this announcement.

Their reports for the past year can be found on the Heritage Chair Today page.

Since we did not get the chance to evaluate our Profs, it might seem strange that such has become commonplace in many Institutes of Higher Learning and that list includes our own A/M. The students actually do submit written assessments on the teachers. Here below is an excerpt from an e-mail from our own Nick:


"This has been an absolutely incredible class. On the first day and the first couple of weeks I was really mad about being assigned to this section because it was harder than almost any other sections. In this class I learned the importance of studying history as a whole and not just focusing on learning factoids. The instructor's attitude was tremendously positive and engaging . This class truly changed how I see and understand history!"
Overall: Excellent.

We 57-ers are a tough bunch !!! Nevertheless, overall, 15/19 loved and appreciated the course, 3/19 grumbled, and 1/19 hated it (and said so!).





Our Prez Sends!


Dave Cooper attended the meeting of the Council of Class Presidents on the First of May and submits the below to the Class for information. The report of the meeting comes to us courtesy of Gordo Gerson, Class President '58. Herewith his report:


COUNCIL OF CLASS PRESIDENTS MEETING
1 MAY 2017


Each Decade gets to elect a Decade Rep who then becomes a member of the Board of Trustees. Our 'Decade' includes both the '30s and '40s as well as our normal '50s. Dave Cooper '57 is our Decade Rep. An election will be held later in the meeting to determine the COCP President from among the Decade Reps. It will be Major Murph McCarthy '00.

Each Decade then held a Decade meeting to discuss several subjects that were assigned and whatever we felt necessary. Our prime topic was Jim Webb and how and why he was selected by the ad hoc board as a Distinguished Graduate and why he then turned it down. Since this will be covered in detail shortly by Adm. Bob Natter '67, who is the Chair of the Alumni Association Board, I will omit our discussion of it.

The next item was the Alumni Association Panel which was pre-empted by Natter's talk about Webb's drama. For those of you who are a little familiar with the process, USNA grads who are a- alive and b- not currently employed in any way by our government may be nominated by his or her class for the honor. The nomination may be repeated three times if the individual is not selected. Then after a one year stand-down it may be repeated (after presumably suitable buffing). The Committee gets the nominations in the Fall and deliberates in much the same manner as a promotion selection panel. As mentioned, Webb was nominated and selected. This apparently provoked a hefty protest by female grads who were upset by Webb's opposition to female USNA attendance and employment in certain assignments. Webb wrote a letter which was published in the Washington Post in which he declined the honor. Adm. Natter assured us that Webb was never pressured by USNA or USN to decline. He said that it was strictly a personal matter that Webb decided upon by himself.

Several questions were asked of Adm. Natter and answered as follows:
1- Were there any women on the selection Committee? Yes.
2- Has there ever been a woman nominated for DG? No
3- Does the Committee ever comment on why an individual was or was not selected? No.
4- Does the Selection Committee attempt to maintain a spread among classes receiving an award? No.
5- It is felt that the Committee needs to be more open about the selection process.
Back to the Alumni Association panel – Bill Dawson '82 EVP of the Alumni Association – (Byron Marchant, Pres and CEO was not in attendance)

There are approximately 79K living alumni. Approximately 62K are AA members. Ten decades are included.

Some of the more notable alumni are Adm. Richardson '82 – CNO, Adm. Harris '78, PAC…current Old Goat.

There are 14 reunions this year…three in the Spring. Some numbers were given regarding class participation and membership.

The Shared Interest Groups mentioned in the last meeting is coming to life. So far "Women" and "Run to Honor" (grads running in the Marine Corps Marathon to honor deceased grads). Reminder, the Football Players have had their own group for some time but are not part of this project. Many class presidents believe that the Shared Interest Groups could detract from and interfere with Class activities.

Class rings were discussed. The first ring of a class received by the AA (or USNA) goes on display at the Museum. The second is displayed at the AA headquarters. Any subsequent ones received are maintained by the AA for whatever need evolves.

The Alumni Mentoring Program was discussed.

Kristen Pironis – Shipmate Editor and VP for communications. She led a discussion of the new Shipmate format. It was the result of user feedback.

The online presence of the AA and Foundation is being modified.
______________________________________________________
Adm. Natter returned to introduce Dan Akerson '70, former Chairman and CEO of General Motors. His purpose was to introduce and explain THE CAMPAIGN. He began by explaining the status of the AA and the Foundation. The Foundation is not a part of the AA. Its sole purpose is to raise money.

The first campaign, run by Roger Staubach had a goal of $175M. It achieved $254M. The basic need for the Campaign is that the Government will fund "good." The Foundation seeks to fund "great." The goal of this campaign is $400M.

The actual start date of the Campaign is dependent on the amount collected. The interim starting goal is when they have $300M - $350M on hand. These are funds obtained by one-on-one solicitations. They will come after the rest of us later. They currently have about $276M.

Just to give you a comparison handle, William and Mary is currently engaged in a campaign with a goal of $4B! A question whether that is a fair comparison. USNA receives significant government funds, W&M does not. W&M students pay tuition. Our Mids do not. Kind of an apples and oranges thing.

Some of the projects in mind for the Campaign $$$:
Hopper Hall
99 year lease on land for the new AA HQ bldg.
International Programs for Mids. Supe wants 500/year
Experiential Leadership Programs for Mids

The Foundation (no government funds) takes $8.3M/ year to run. Currently funded by the Annual Fund Drive.

Back to the AA Panel. The next speaker was Lisa Strobel, Director of Treasury Operations (speaking in lieu of Hank Sanford).

Spoke very briefly…some numbers…Net Assets are $256M. 2017 revenue is $60.2M. The 2017 Budget is flat on a year to year basis.
Jamie Wolff '03 Director of Information Services. He basically owns and runs the computer facility and everything it's used for.
They are done transitioning to the new Customer Support software which has held things in limbo for some time. Class Mail is transitioning to Google. That is the gadgetry that (for example) lets me set up gordon.gerson@1958.usna.com as my email address which is than routed to me at usna1958@verizon.net. I know many of you are using this capability which has been flighty from time to time. Should be better now.

Bill O'Connor, EVP for Development.


First Gift Program. It was invented by the class of'08. It currently is picked up every year by the graduating class with an average participation rate slightly over 50%.

The All Academy Challenge is going on again this year. Chet Gladchuk (needs no intro)
His goals/priorities are:
Academic Success
Honor/Conduct
Leadership qualities through competition
"Will to win" environment
"Expect to win" mindset
Program in full compliance
Complete capital initiatives
Finish campaign
Achieve intercollegiate goals – BEAT ARMY
Effective business model
(He spoke on each subject)

Navy competes in 33 intercollegiate sports

Financial – NAAA support = 95%, Government support = 5%

The hallways of Lejeune Hall are being updated to reflect accurate history of USNA athletics. Also, will contain a new Athletics Hall of Fame.

Brand new Rugby Facility financed fully by alumni.

Other new facilities;
Basketball in Halsey Fieldhouse
Squash doubles court (long story how Navy won the national championship without a court at home)
Physical Mission Facility – sponsored by Terwilliger Foundation – not just for varsity athletes. Will contain a rehab center currently being designed

Golf Course needs $2M. He is looking for sponsors at $100K per hole.

Football stadium has one more major phase. Primarily expanding the press box.
Akerson Tower is sold out for this season.

Women's basketball – problem – 4 or 5 quit before the season started (no reason stated). Team started the season with 11 players. The team captain for 2 seasons, Serita (sp?) is top 3-point shooter in the conference.

Baseball – 75 wins in 2 years. Looking to compete in the NCAAs.

Women's Lax – school record broken scoring 24 goals in a game.

Women's crew – won 12 events in a meet last week. The lightweights beat Columbia – last year's national champions.

Football coaching staff…some changes since last year

The RFP has gone out for who will host the Army game for the next ten years. Among the likely winners are Philadelphia, Boston, Baltimore, and Yankee Stadium…must be East Coast.
Navy will play Notre Dame in San Diego in 2018, Meadowlands in 2020.

Navy is hosting the Veterans Classic again this year (basketball). Others will be Pittsburgh, Alabama and Memphis.

Next March the Washington Capitals will play the Pittsburgh Penguins (ice hockey) in the stadium.

Pre-season baseball next year again at Navy. Can't have Washington Nationals again (MLB rules). Trying for Orioles.

You are probably aware of this but Navy athletes once again cannot go pro after graduation. They must serve a minimum of two years' active duty, then request permission. If accepted, they will then serve 6 years in the Reserves.

Last item from Chet – the Ice Hockey team will remain a Club. Our location requires too much travel time for varsity team.

Next up was our current Supe, VADM Walter E. "Ted" Carter, Jr. '81

He spoke without slides.

He is scheduled to be Supe for one more year.

His three primary areas of focus are:
1- Leadership Programs
2- Cyber Programs
3- Overseas opportunities for Mids.

He asserted that the quality of graduates is equal to the best ever…no indication of how this is measured.

The current application rate for admission remains high with 16,500 applications for 2021. Of these the average SAT score was approximately 1400. The acceptance rate by applicants who were offered an appointment was 85% which was the highest in the country. 1155 accepted last year. It is expected to be higher this year. The expected graduation rate continues to climb.

Service selection among the Navy's 5 warfighting communities sees submarines continuing to be lowest. He feels recruitment is needed.

This year's average GPA for grads is 3.11.
This year Navy got their 50th Rhodes scholarship…a woman for the 2nd year in a row.

There is now a Hertz Scholarship for Cryptological Warfare. It will go to this year's #1 graduate.

Approximately 20 Mids will go directly into post-grad programs this year.

70 – 100 Mids are looking to major in Cyber Operations. I did not catch how this was determined.

There are several intercollegiate competitions in various Cyber Warfare areas. Navy has entered a team in several. Navy's Cyber Policy Team won both the National and International competitions this year. There is also a Cyber Defense Exercise which has teams trying to crack into the service academies networks. USNA has created a special network which the Mids can practice against. Navy won the competition 2 years ago. Last year USMA won it. Navy won again this year.

Club sports – Fencing is now a club sport. Navy won three golds in the nationals this year. In Ice Hockey Navy won the East Coast championship and will go to Nationals. Navy won a gold in Figure Skating. Navy's Triathlon team won the National Championship.

Other non-athletic issues…The Honor Concept which originated in the early 50s (I thought it was older than that) has been reviewed and modified somewhat. There is an attempt being made to provide Mids with a grade on honor. A means for doing so is being explored. (They don't seem to find a binary grade sufficient.)

Leadership programs – Ethical leadership is in the domain of the Stockdale Center under Art Athens. Our class' Larson award plays a big role in that area.

Building in the yard – Hopper Hall – the test-pile phase of its construction is underway. They expect to require 300 piles for that building. As part of that project the new parking garage construction has stalled. Apparently, the contractor poured the 2nd level of concrete incorrectly. It needs to be removed and re-done. The garage will (hopefully) be complete by the end of this year at a cost of $10M. Hopper Hall is projected to be completed by the end of 2019 at a cost of $110M. [I am willing to take bets on either number].

Overseas assignments for Mids – Approximately 300 Mids are overseas during the current Academic Year. Assignments are for 3, 4, and 5 weeks. Those that involve exchange programs with other country's academies are financed ONLY for transportation. Otherwise the academies support our Mids and theirs same as any other Mid.

More on Admissions – Male applicants must be able to do an 8-minute mile. Females – 9 minutes. Tattoos cannot be above the neck or on the hands. Mids are not permitted more tattoos once admitted.

Everything else from the Supe is in response to questions.

Someone asked about transgenders in the Brigade. They are following the DoD policy with no known problems. They have had one guy switch who is now in the fleet as a female. They will not fund operations to accomplish the switch. No changes have been made to toilet facilities.

Next question involved how much it cost a Mid if he is discharged 2/C year. Answer is $130K. 1/C year - $200K.

Plebe Summer attrition in 2015 was 9. In 2016 – 20. The Supe believes that Summer Seminar and Summer STEM programs for potential applicants help to weed out those who would not be able to deal with it.

There are currently no funds available to upgrade Bancroft Hall. In any case, there is no place to move Mids out of areas being upgraded. Potential costs to re-do Bancroft estimated at $1B. The Yard's maintenance does have funds and is felt to be in pretty good shape. Along these lines, Hopper Hall will be the last new building in the Yard that will be constructed without something else coming down…no more room.

Diversity issues – Supe feels that recruiting is working. Ethnic diversity (based on self-identification) is 35% White males are now 40% of the Brigade having shrunk from 80% when they started measuring. Three of the last 4 Brigade Commanders were females. The Supe wants to have at least one female Battalion Officer. Never have had one.

The croquet team really does practice. Apparently not as hard as St. Johns.

Alan Shepard's space capsule has been moved to the Kennedy Library at their request. There are no plans for it to be returned.

Balancing tradition with safety…taken a case at a time. Some (unnamed) traditions
are being phased out. Complaints about the Herndon Monument climb are ignored.

The final item was the election of new COCP Officers which was covered earlier.



AN ILLUSTRATION


The below is an illustration of the book, "America, Sea Power, and the World" that was edited by Professor Jim Bradford, Holder of our Chair for Academic Year 2012-2013. This book is now being instituted as the text for the obligatory Naval History Course for Plebes. The book is dedicated to our Class with these words:

Below the photo is a flyer that will allow our Class to obtain copies of the book at a 20% discount. Look inside the orange circle. Many thanks to Wiley for their kind show of appreciation!!


"To: Members of the United States Naval Academy Class of 1957 - They made and appreciate history"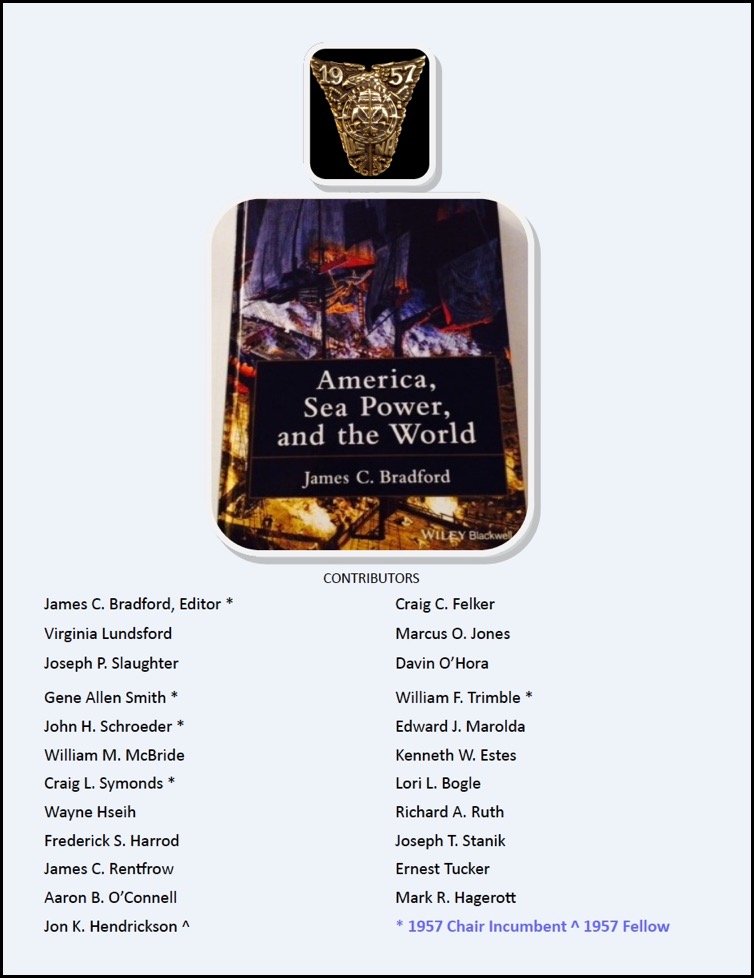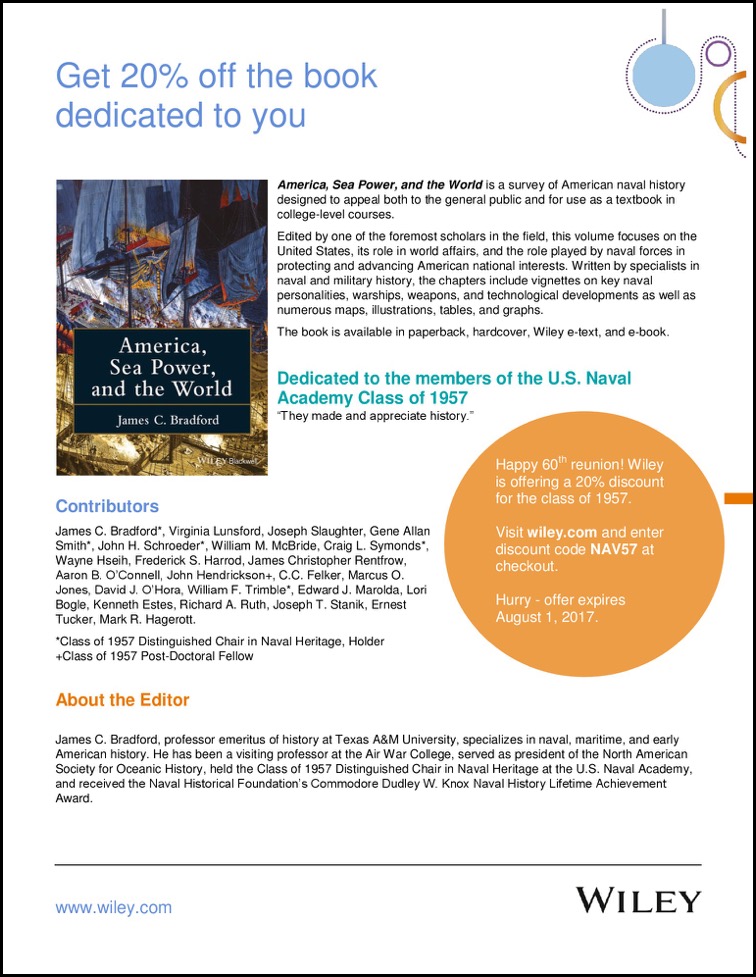 A Little Laugh for a Hot Day!!