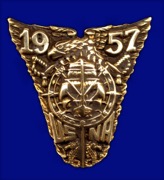 REUNIONS



This page provides information regarding Class Reunions, recent and future. Apologies for whatever blur or fuzzy lies below. Multiple copying/reformatting is the culprit or gremlin for our older Mates. Complaints can be addressed to anybody that will listen.

I find that a little squinting sometimes helps a lot.



60th REUNION QUICK LOOK

Memorial Service


First is a PDF file that contains the Program for the Service. You might have to download it but, on many browsers, it will open automatically.



Memorial Service Program


Next are the remarks that Fritz Warren delivered and shown as Reflections in the Program.

Good morning, Classmates and loved ones.

Our goal today is remembrance. We hope to share memories of our other classmates, those who have gone before – but also memories of our collective lives as the great Class of 1957. Yes, I think we can agree that ours is just that: Great.

To bestir these memories, let's ask ourselves a few questions, e.g.:
Who were we, sixty-four years ago when we arrived at the Yard? It was the start of a new adventure: starting college yes, but more than that. We were excited, expectant, often unsure of our prospects as midshipmen.

In our perceptions of this institution and of our futures here, we varied to extremes: From a cohort of older, more savvy former enlisted men and NAPSters, all the way to the Alabama product who was dismayed to learn that he would have to take an oath and, yes, actually wear a uniform.

We entered a very different world: different from our own previous worlds, different from the world around us (think Mad Men).

Inevitably some of our classmates were not with us for June Week 1957, although they remain part of this brotherhood. The Academy of the 1950s was a hard-over military institution dedicated to producing qualified junior officers and to weeding out those who did not measure up. The approach was to present a standard, unforgiving program of instruction, leaning strongly toward discipline, leadership, seamanship, and basic engineering.
Retention was not then the high priority it is today.

The culture of the Brigade, while accommodating and reinforcing the institutional goals, allowed many of us to live by the principle of the calculated risk: You learn the rules. You follow them unless for some reason you decide not to – and then you calculate the risk of being caught. If caught, you take the consequences "like a man". So indeed in Bancroft there were the scattered little black-and-white TVs, and the always available grilled cheese sandwiches made to order.

And let us never forget those who often aided and abetted those risks – or counseled caution: Our drags.
The principle of calculated risk of course did not apply to anything indicating moral turpitude. For those cases, a quick and quiet discharge.

We were grateful, though, that our honor code did not mandate reporting violations of others. We considered this quite civilized, as compared with the more stringent West Point code.

So who did we become while living in Bancroft? We prospered as Mids, including being part of the Team Named Desire that beat Old Miss in the Sugar Bowl.

I think it is safe to say that with us the Academy fulfilled its mission. We became junior officers in the Navy, Marine Corps, and Air Force, and found ourselves capable of leading others and of absorbing higher levels of training. We found ourselves well-enough equipped with confidence, energy, and self-discipline

We found ourselves with strong sense of honor, commitment to our mission, and a habit of following the rules – seasoned with the salt of the calculated risk.

In many cases, we found ourselves in love and committed to a shared life.

What did we face?
Our country was leaving an era of postwar prosperity and apparent peace, for one of social upheaval, bloody war, vast cultural and technological change, and the Cold War.
How did we react?
We reacted by doing our jobs, raising our families, fighting in Vietnam, and winning the Cold War. Of these we are proud.
Along the way, our Class reached the greatest heights – the Moon – and the deepest depths – the Marianas Trench.
We commanded warships, warplanes, and war-fighting troops; we supplied them, built their hardware, and developed the systems that made them so powerful.
Including the system which enables their precise navigation.
We held down the highest positions in major business and small, and pitched in to raise money for our legacy gift.
We oversaw our Academy from the Dant's as well as the Supe's offices.
We influenced all Academy athletic admissions for years.
We flew all the aircraft, including a world-record long-distance and high-altitude P2V flight. And edited the leading aerospace magazine for many years.
We built, manned and commanded the world's best submarines, and used them to perform incredible feats at sea. The marriage of the cruise missile with the 688-class submarine? We made that happen.
We were the '57 Submarine Mafia.
We developed, manned, and supervised the world's leading nuclear power systems.
We led the emergence of the successful National Reconnaissance Office.
We demonstrated courage and commitment as prisoners of war for years in Hanoi.
We earned six Silver Stars; 45 Distinguished Flying Crosses; 77 Bronze Stars; 133 Legions of Merit; and seven Purple Hearts.
We lost eight classmates in combat operations.
We had, with some help, 2817 children; 4589 grandchildren; and more than 85 great-grandchildren (still increasing).
We gave back to the Academy - starting with a magnolia tree along Stribling Walk, including a Stadium gate, a scoreboard display for Alumni Hall, and a wonderful legacy gift: the Class of 1957 Distinguished Chair in Naval Heritage, in the History Department – to be celebrated tomorrow at a briefing by our current incumbent, Prof. Nick Lambert. You're invited.
We have received five Distinguished Graduate awards – tying the record.
We produced first-class videos for the Visitor Center.
We have funded a series of scholarships which provide aspiring youngsters a year of prep school before entering the Academy.
We have sustained a strong sponsorship program with a company of midshipmen, now the Spartans of 22nd Company.
We were the first Class to engage all four undergraduate years with the Class of 2007, our Link in the Chain Class. This relationship continues, including sharing our sponsorship of the 22nd Company.

So, who are we today?
We are the survivors of a great Naval Academy Class. And as survivors we are also caregivers to loved ones, as well as volunteers who are giving back to our society.
We are much blessed by our belonging to this Class. To have done so much together, to have shared so much together, to have felt the love that we give each other. We are much blessed also by the life companions who have traveled with us, and who have occasionally provided us with needed supervision.
We are blessed to be able to come together here, today, one more time.
And to remember those who have gone before.


David Mitchell Honor Scholarship Fund


In his Reflections at the 60th Reunion, above, Fritz Warren mentioned that the Class funded scholarships which provide aspiring youngsters a year of prep school before entering the academy. This came as a surprise to many people. This program was started by one of our classmates. On his final tour before leaving the Navy, David Mitchell served as Flag Lieutenant on the staff of Rear Admiral Elliott Loughlin, Athletic Director during our tour of duty in Bancroft Hall. When Admiral Loughlin retired, he became President of the Naval Academy Athletic Foundation. As such, he sought to improve Navy athletic programs. One way was to encourage more promising high school athletes to complete prep school prior to applying to the Academy. When he could not locate funding to support the program, he reached out to Mitchell, who had embarked on a successful career. Mitchell responded with initial funding for $150,000 and the David Mitchell Scholarship Fund was started. A few years later, David changed the name to The Class of 1957 Honor Scholarship Fund. Over the years, there have been twenty-six recipients of the scholarship and twenty-four have graduated from the Academy, including one who was named an All-American.


Class Photo



Below is the Class Photo taken after the Memorial Service on a windy morning on the Chapel Steps.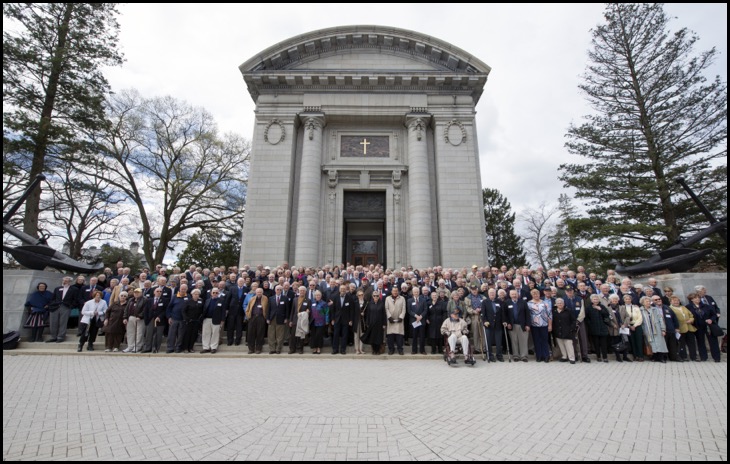 Luncheon at the Stadium




After the Memorial Service we adjourned to the Stadium for an excellent lunch that included a visit from the Superintendent, Vice Admiral Walter E. "Ted" Carter, who addressed us during dessert. The SUPE took questions after his remarks but, unfortunately, no record was made thereof. Herewith his Briefing Notes, as provided by his Dog-Robber.


Supe's Briefing Notes


And here is a list of Reunion 60 Attendees by Company.



rptRegistrationByCompany (REG2) 10 May


And finally, a few photos of the Friday Afternoon Parade in our honor.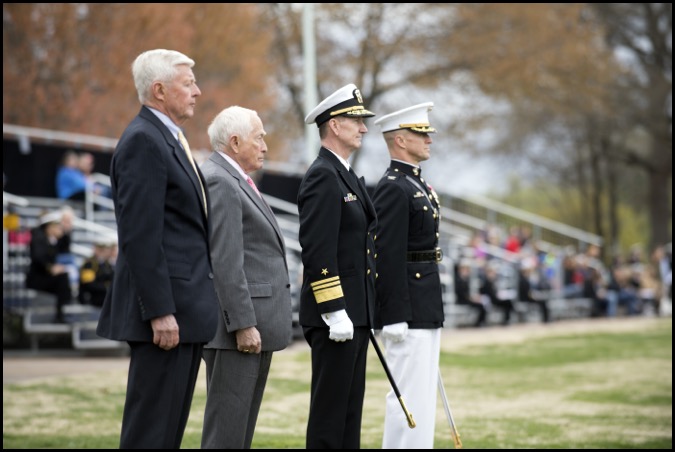 The Reviewing Party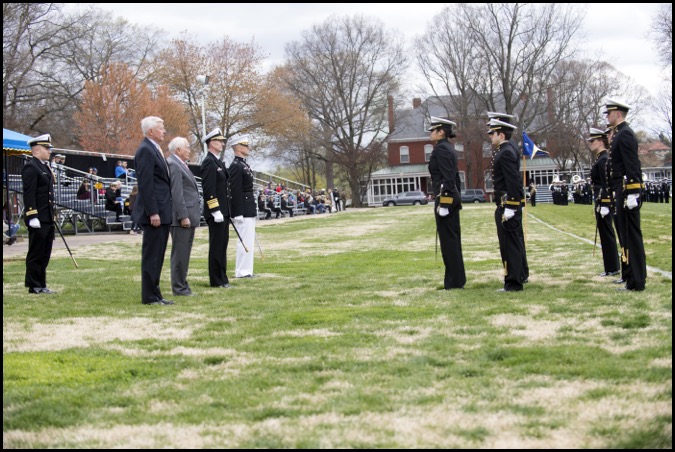 The Reviewing Party and the Brigade Staff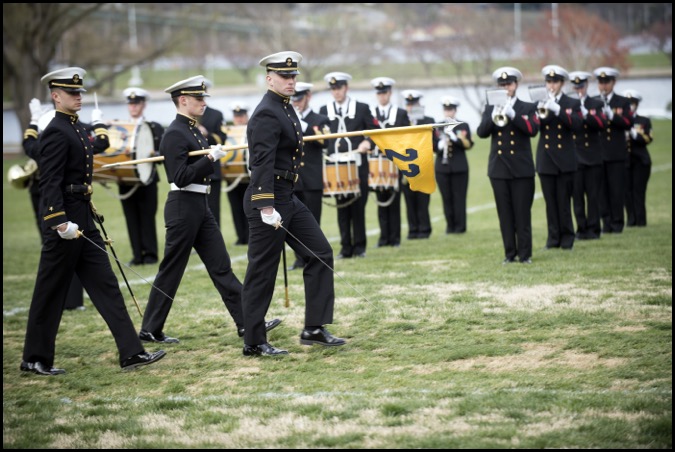 Our Own 22nd Company!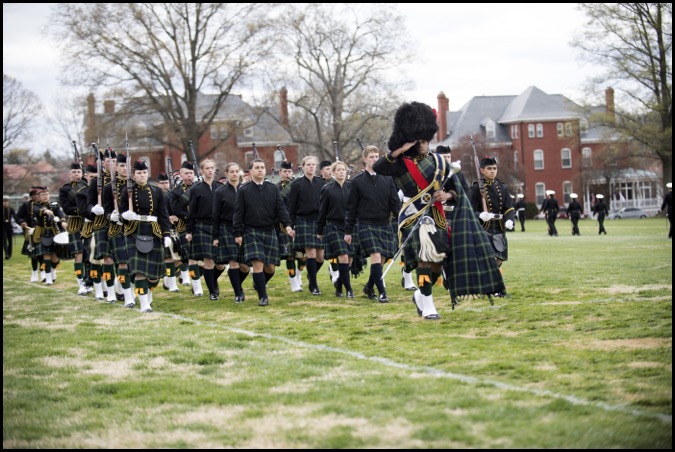 Not sure who these folks are but I'd not want to get between any of them and the last sandwich on the buffet!!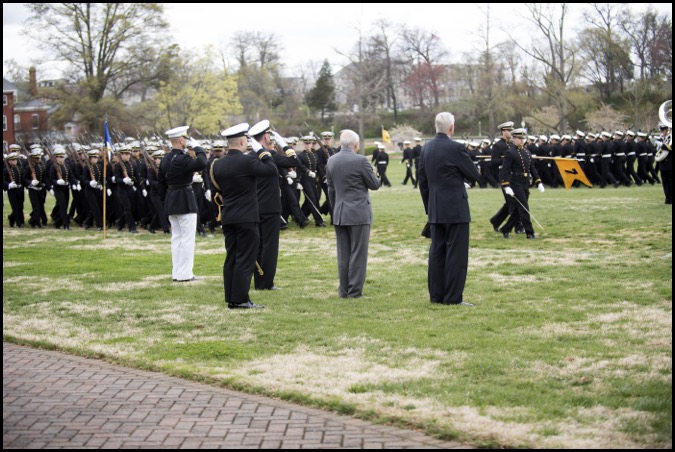 And, Of Course, The Glorious Seventh!!!