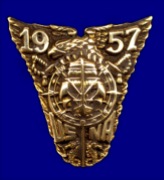 WHO WE ARE!!
from
Dave Cooper's "Reflections"
52.5th Reunion Memorial Service
and
Updated to 7 June 2014
Thanks to Paul Behrends!!


Why we are the Great Class of 1957!

o Class had 848 graduates of which 568 went USN, 206 to USAF, 62 to USMC, 2 to foreign Navies (Peru and Philippine) and 10 "civilian corps" with medical disqualifications.
o 289 non-graduates
o Of those 836 graduates that went into the Navy, Air Force, and Marines:
- 48 Killed/died in service
- 265 Resigned before retirement eligible
- 523 Honorably retired from service
o 31 Flag and General Officers (24 USN, 1 USMC, 5 USAF, 1 Peruvian) including three 4-star, six 3 star, sixteen 2 star and five 1 star ranks

The Class of 1957 is most famous for the accomplishments of its members in their lifetimes. Here are just some of the examples:

With respect to the Naval Academy
o 1 USNA Superintendent - Ron Marryott
o 1 Commandant of Midshipmen – Bud Edney
o 1 USNAAA/USNAF CEO & President – Ron Marryott
o 1 USNA Varsity Athletic Coach – Dave Smalley
o 5 Distinguished Graduates – Ron Marryott, Bruce DeMars, Bud Edney, Brad Parkinson, and Dan Cooper

In other areas:
o An astronaut who walked on the moon – Charlie Duke
o 3 appointees to National Sub-Cabinet level posts – Dick Furiga, Joe Ksycewski, and Dan Cooper
o 1 Senior National Football League Referee - Bob McElwee (3 Super Bowls!!)
o Key designer of the GPS Navigational system and recipient of Charles Stark Draper award – Brad Parkinson
o Recipient of prestigious Harmon International Aviation Trophy – Jerry Gentry
o Defense Science Board Member – Ed Biggers
o Most importantly - Inspired over 40 sons AND daughters to attend USNA. Now grandchildren are attending in numbers.

We are also famous for our generosity in what we have given back to the Academy. 1957 has given the below gifts to USNA at a total value of almost $4M
o Tree on Chapel Walk
o Stadium Gate
o Alumni Hall scoreboard
o Visitors Center Theater
o Chair in Naval Heritage
o Sponsorship of 27th and 22nd Companies since 1991
o Purchase of over 400 memorial chairs in the Navy-Marine Corps Memorial Stadium

None of this could have been possible without the continued support of too many classmates to mention.
o There are three of our class leaders that I do feel deserve recognition.
- Fritz Warren 28 years Pres during our "active duty years"
- Tom Sims 21 years Treasurer – died Spring of 2011
- Dick Scales 20 years Secretary – died Winter of 2005.

And after 57 years:
o 848 graduates reduced to 544 living graduates plus 226 living widows
o 143 graduates died in last 10 years, 82 in the last 5 years, and 24 in the last year.