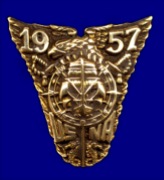 CHAIR IN NAVAL HERITAGE


Below is an update to the legacy of our class' Legacy Gift, The Class of 1957 Chair in Naval Heritage."




Dr. Tyler Pitrof's Syllabus for the Spring Semester


Dr. Roger Bailey's Syllabus for the Spring Semester


Professor Winkler Receives Award


From Rear Admiral, (Ret) Edward Masso, Executive Director of the Naval Historical Foundation:

"It is my pleasure to announce that the National Maritime Historical Society has decided to bestow to our staff historian Dr. Dave Winkler their Distinguished Service Award at the forthcoming 2022 National Maritime Awards Dinner scheduled for the National Press Club next April 28. The other recipients selected to receive recognition that night include Kristen Greenaway, the CEO of the Cheasapeake Bay Maritime Museum and Secretary of the Smithsonian Lonnie Bunch. The NMHS has reached out to USNA Superintendent Vice Admiral Sean Buck to present the award to Dave in recognition of his tenure as the Class of 57 Chair of Naval Heritage from 2019-2020.

In the letter sent to Dave from the Society's president Burchenal Green, Dave was cited as a champion at bringing the many components of maritime heritage together to meet new colleagues, share ideas, learn from, and stimulate each other to new projects and programs.

Many of you on our board, myself included, were honored to speak to Dr. Dave's classes at USNA, and can attest to the infectious enthusiasm he created about Naval History to his Midshipmen. This honor is well-deserved and I speak for us all when I say how proud we are of this recognition to our stalwart and longstanding Foundation historian."

Well Done, Dave!!