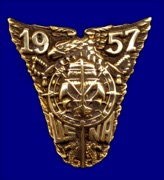 WHAT WE DO!!

Robert Phillips Parts Company With his Ferrari!


Robert bought the car as a wreck in California when he was a JG. He put in massive amounts of work over the years and won many prizes. Robert reports that he did way more with the car than he ever dreamed of to the beginning. Let us all take a moment of silence to honor the passing of the baton to the next Custodian. May he/she do as well by the Olde Machine as Robert did. Below is a link to an overview of the history of the Admiral and his blue Ferrari:

https://www.caranddriver.com/news/the-admirals-ferrari-500-mondial-series-ii-goes-up-for-sale


Gary (Glorious Seventh!) and Trudy Mathews Honored!!


Gary reports: Trudy & I were recently honored by the youth program that we started in our adopted home town, when they dedicated a new building to us. Anyway, that generated some complimentary publicity, including this article in our local on-line daily paper:
http://mahometdaily.com/2018/01/31/heroes-home-gary-trudy-matthews/.

Oarsmen of the First Water, B'Gum!!
Doing It Again!!

This report from Art Wright and Roger McPherson!!


Hi Charlie!

Roger and I did a repeat rowing performance at the 2017 World Rowing Masters Regatta in Bled, Slovenia 6-10 September. I must start by stating that Bled is the best rowing venue I have rowed in terms of setting, local support, regatta management and sheer fun.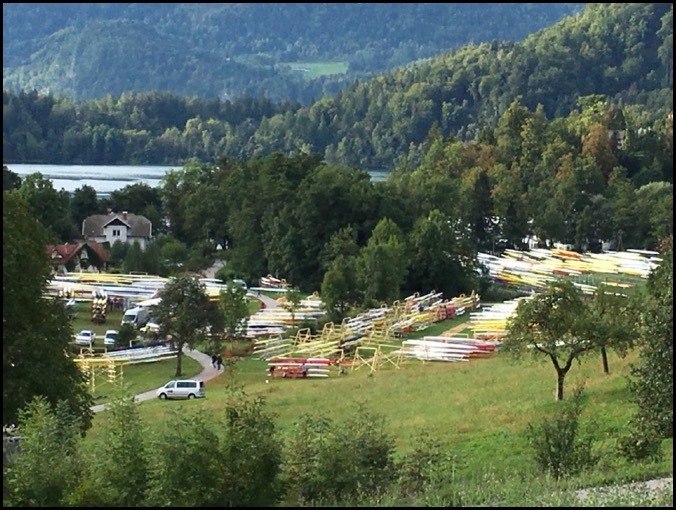 Our group is the Octos – 36 rowers aged 72 and above from 11 countries organized into 26 different eights, quads, fours and doubles during the five days of competition.

We were in a total of seven races in the 80-year-old bracket (Doubles, Four with Cox, Four without Cox, Quad, and Eight) with one Gold Medal for Art in a Mixed Eight. There are some tough old guys in our age group. Next year in Sarasota we'll do better.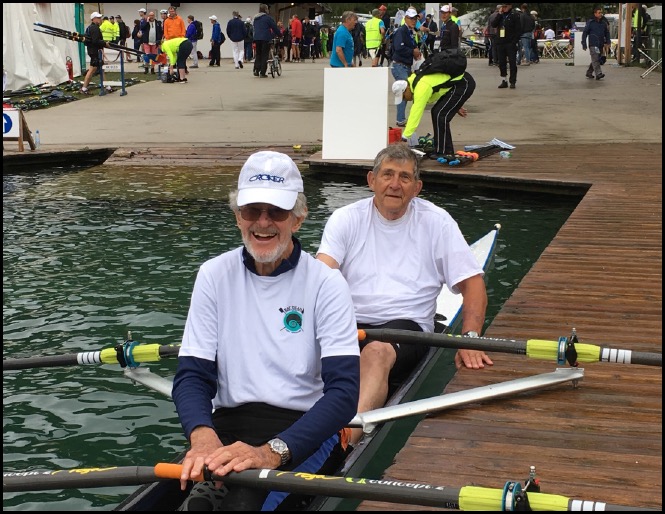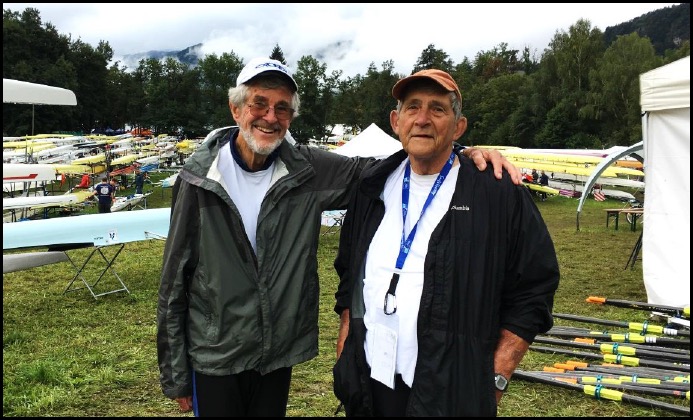 Well Done, Guys!! That's one for us oldies!! Thanks for the report and the very fine photos! We'll be waiting to hear the results from the next outing!!


Nick Lambert's Student Wins the History Prize!!
Another Academy Adventure!

Reported by Charlie Hall


This adventure started out benignly enough with an e-mail from Nick Lambert, our History Guy, in which he advised Bill Peerenboom that one of his students, MIDN 4/c Julia Kalshoven, had been awarded the 2017 Plebe history prize - i.e. she was judged the best historian out of the entire class of 2020!

This prize is an annual award by the US Naval Institute for the Fourth Class. All Plebe Naval History instructors nominate their best student and submit that student's best paper. The History Department Prize Committee reviews the submissions and selects the best paper for the award. The winner is memorialized by name on a plaque in Preble Hall and a life membership to USNI. Miss Kalshoven's winning essay is titled "The Logic of Mahan's History of Sea Power". Anybody that wants to read her work should contact Nick at lambert@usna.edu.

And so after some back-and-forthing among Nick, Bill, and myself, we decided that the Class should recognize Miss Kalshoven in some manner, and shortly thereafter, we all agreed that some history books, suitably autographed by their authors, would make a fine presentation. And we further agreed that we should celebrate this event with lunch at the Officer's Club. So the execution phase began with this ad hoc committee working on gathering some appropriate books. I asked my Post-Grad Classmate, Wayne Hughes, USNA '52, if he would autograph a copy of his latest book, "Fleet Tactics and Coastal Combat". He very graciously offered to both supply and autograph a copy. I also bought a copy of Sandy Woodward's book, "One Hundred Days, The Memoirs of the Falklands Battle Group Commander". As it happens Nick's stepfather, who was Assistant Chief of Naval Operations at that time, delivered the mission orders to Admiral Woodward at Ascension Island as the Group proceeded to the Falklands. Since the Admiral is no longer with us we thought that an inscription by Nick's stepfather would be very nice. And so Nick arranged for him to provide a note to paste in Woodward's book. Nick's friend, Jon Sumida, contributed a signed copy of his book, "Inventing Grand Strategy and Teaching Command". And finally, Bill arranged for Admiral James Stavridas to sign a copy of his book, "Sea Power: The History and Geopolitics of the World's Oceans". And so the pile did indeed represent a nice collection of the best of Naval history and thinking!

Once the Brigade returned for Academic Year Nick met with Miss Kalshoven and they determined that Thursday September 23rd would be fine for her and so we settled on that date. BTW: Miss Kalshoven's Youngster Summer consisted of a trip to Israel to study Arabic (she is already fluent in French and Spanish), flying to Singapore, joining a ship en route to Tokyo Bay, disembarking in Japan, and flying home!!!! Gone into the mists of time are summers of at-sea training aboard grey ships with a week in La Coruna, a week in Antwerp, and a few hot days in Gitmo!!

Somewhere along the way I asked Nick if he would be interested in my doing a repeat of my presentation on the Battle of Trafalgar and the importance of systems that don't shoot. It turned out that his Upper Level History Class would be dealing with the Trafalgar era at the same time as our presentation to Miss Kalshoven and so we arranged a re-run of my previous discussion. I did revise my Viewgraphs a bit and have included the new set below for anybody interested.

As many of you might recall I wrote up my visit from last year and, truth be told, not much was different this time except that Bill came for the presentation and added to my discussion with some of his operational experiences that fit into the subject matter.

After the Class ended, our Classmate Paul Behrends, CDR B.J. Armstrong (Chairman of the Selection Committee and Helicopter Aviator – Uurah!), and Captain Chris Renfrow, (Senior Naval Officer in the History Department) joined us for the presentation to Miss Kolshaven. We each said a few words to Miss Kolshaven and presented her with the four books. Bill suggested to her that she might like to visit the Class at the Tailgates arranged by the 22nd Company so if any of you see a Youngster on the fringes, please see if that's her and invite her in and introduce her around.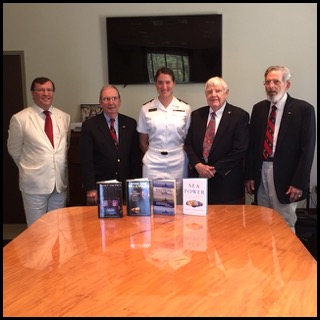 Most of us then adjourned to the Officer's Club for a very fine lunch. I highly recommend the Club if you happen to be in the vicinity. We had an interesting conversation about Bancroft Hall, the curriculum today, and other such topics that would have continued longer except that Miss Kolshaven had an afternoon class to attend.

For me it was another fine visit to the Yard. I always enjoy getting back there for whatever reason. The old place still looks good, lots of green and white: grass, trees, and monuments. The troops look sharp even if they all seem to have different ideas about the Uniform of the Day. The Midshipmen that I spoke to in Nick's Class were all very well put together, took notes, and paid attention to every word I said. BTW: I learned something. I took along my laser pointer that I have used with viewgraphs for years but when I pointed it at the wall-mounted monitor to make a point, the red spot disappeared. Seems a monitor and a screen are way different.

I suggest that any of you that have a chance to visit the Yard during the Academic Year get in touch with Nick, our History Guy, and arrange to sit in on one of his classes. You'll learn a lot about a wealth of things. Maybe they'll learn from you as well. I asked this group about Red, White, and Blue Ns and the Seven Ropes of the Navy and got blank looks. Bill supplied the Ropes and I explained about the other although I gave only the Olympic medal version and not the one that involves the huge mortar in front of Mahan Hall.


September 2017 USNA Pitch