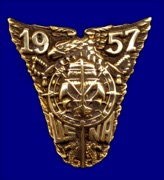 WHAT WE DO (or DID)!!


This page provides some of what we are doing as Retired Old Fudds (and maybe some stories of what we did as Young Studs). All that is left then is what we did as Lieutenant Commanders.

It will be revised from time-to-time as the Class, National, and World Situation dictates. Suggestions/recommendations for items to be posted should be sent to the Class Webmeister. Contributions are both sought and welcome.


Art Wright Stays Active!!


Our Classmate, Art, continues to have a busy schedule. This morning, June 2, on a glorious summer day on Lake Union in Seattle, at a small rowing club that he coordinates, he rowed with all three of his daughters. Art said that he was lucky to have them all together and only about the third time they have been on the water together in their lives.

Monday, 5 June, Art is off to Papua, New Guinea to help Harvard professor Avi Loeb recover pieces of a meteorite from outer space that crashed near there.


Jim Paulk Has Published His Book!!


Our Classmate of the Sixth Company has published his book titled: "Swimming for Our Lives: A Naval Academy Graduate's Stories of an Adventurous Life" . It is a collection of tales from his life both at work and at play. Quite a few very fine photos are included. It is a delightful read although there are some scary and sad events reported along with the happier. The book is available from Amazon in both paperback and Kindle formats.







HelenAnn Phillips Has Not Slowed A Bit!!


This from Robert Phillips, recent of sports car fame but now basking in the glory of the Fair HelenAnn!!

On 14 October 2022 the 35th Huntsman World Senior Games concluded in St. George Utah. Over 11,000 folks competed in various sports from 33 foreign countries.

Competing in the Women 85-89 age group, HelenAnn ran the 1,500m on Monday, the 800m on Tuesday and on Wednesday she competed in a 400m race for the first time. Results were: Gold, Silver and Gold respectively. They were all run in the middle of the day, so it was hot but dry.

There is one more interesting fleeting statistic. In the early June heat and humidity of Ft. Lauderdale, Florida she ran a 1,500m race at the National Senior Games (formerly Senior Olympics). According to the MastersRanking.com tracking website, her time at this event so far this calendar year is still the fastest in the world for the women's competitive 85 to 89 age group. That time was also faster than the existing USA record but will not be recorded as she was not a dues paying USA Track and Field member at the time.



Your WebMeister wants to brag a bit!!


For the past four or five years I have been working on a book that is more of an anthology than an autobiography. Back in August it was published on Amazon as an E-Book. The Title is "Travails With Charlie (And Apologies to Steinbeck)".

It can be found on Amazon at https://www.amazon.com/TRAVAILS-CHARLIE-Charles-Hall-III-ebook/dp/B0B9X87KZL .

If you have problems, please let me know and I will try to help you.

It's not meant to be read cover-to-cover like a summer beach pot-boiler but rather to be dipped into from time-to-time to see what Ole Charlie has written about on some topic from the Table of Contents that seems interesting. But, of course, the reader is free to read as he/she likes. I welcome any comments that might spring to mind!

I have enjoyed the writing and I hope that you enjoy the reading! Here's the cover: