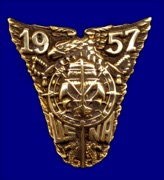 WHAT WE DO!!

Classmate Steve Powers Publishes Book Regarding Normandy Beaches


I am writing to let the Class know that a colleague, Kevin Dennehy, and I have just published a revised guide to the Normandy beaches titled "The D-Day Visitor's Handbook: Your Guide to the Normandy Battlefields and WWII Paris" (New York: Skyhook Publishing, 2019). It s an updated and expanded revision of the D-Day guidebook we published five years ago. We revised the book after touring the beaches again in 2017, so the information it contains is up-to-date. The book is available through Amazon and Barnes & Noble, and hopefully through most local bookstores. Kevin also maintains a website for us, www.militaryhistorytraveler.com, where we post new information on Normandy and D-Day, e.g., I have a long piece on D-Day at Omaha Beach up on the site now.
Anyway, I would appreciate it if you could inform our classmates of our guidebook. Even if they may not feel up to making the trip, their children and grandchildren might.

Thanks for the job you do for the class,

Stephen T. Powers
USNA, Class of 1957 (9th Co.)

P.S. I am attaching a .jpg of the book's cover and a photo of me giving a presentation about D-Day memorials at The Tattered Cover Bookstore in Denver last Monday.

WebMeister interrupts to say that the JPG of Cover did not come through! Sorry Bout That!