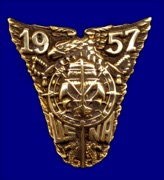 What We Do




NOTE: I have a Video of our own Racing Legend, Robert Phillips, but have not yet conquered the art of inserting video in the Website.


However, as an interim move, you can see him in action at these URLs:

http://tinyurl.com/hsd2fdl

http://youtu.be/HpfJ1b-X7p4

https://www.youtube.com/watch?v=5CYjfNwVDpU


Looking Good, Robert!!


Oarsmen of the First Water, B'Gum!!


Our own Rowing Stalwarts, Art Wright and Roger McPherson, journeyed afar to take part in the World Rowing Masters Regatta(WRMR) in Copenhagen during the week of 5 September. Art organized the "Geezer" teams called the "Octos of 80". There are 6 rowers in the category from the US and many more from Europe. Our guys rowed eights, quads, and doubles during the three days of competition. They have provided some photo proof so that all us scoffers must bow down to athletic skill and endurance. Shown below are two such proofs. The Quad consists of Art Wright, Ancient Mariners Rowing Club, Seattle, WA; John Davies, Royal Chester Rowing Club, Chester, UK; Roger McPherson, Rat Island Rowing & Sculling Club, Port Townsend, WA; and Don Tanhauser, Lake Casitas Rowing Association, Ventura, CA. The Double is Art and Roger.

Herewith their report. "Roger and Art were in 4 or 5 races each in the 80-year-old bracket (Doubles, Four with Cox, Four without Cox, Quad, and Eight) but no Gold Medals. Roger was edged out by a nose for a Gold in a Four with Cox and Art had two long seconds. Next year in Slovenia we'll do better. There are some tough old guys in our age group. But a lot of fun! We would love to have a few other '57 rowers join us in Bled next September."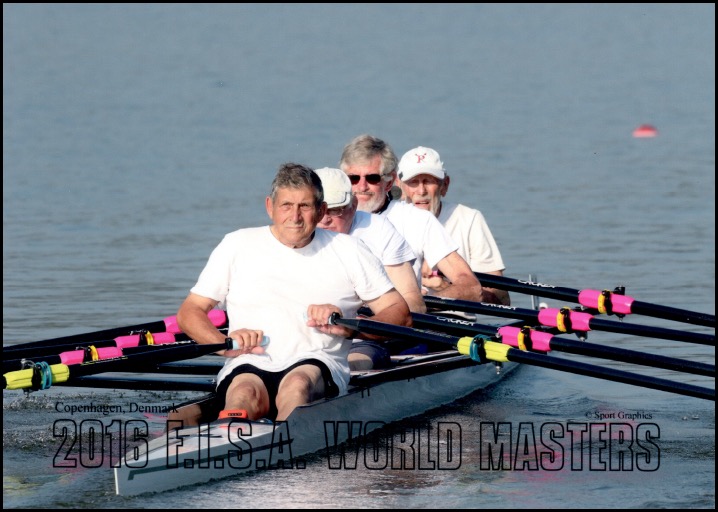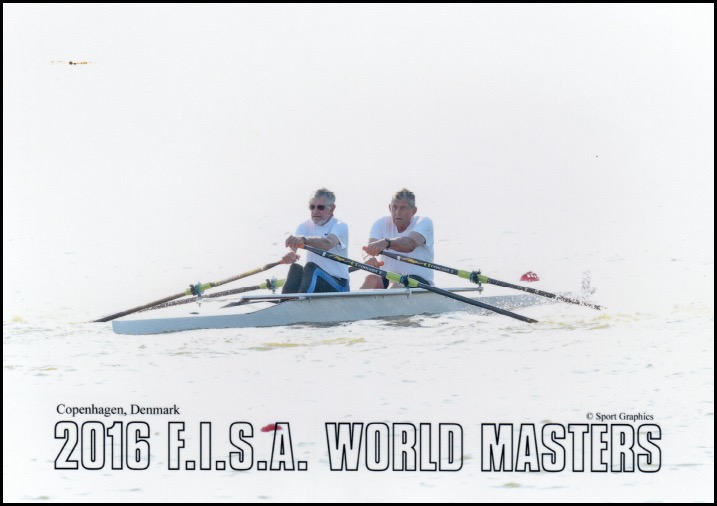 Guest Lecturer at USNA
Reported by Charlie Hall

After a series of e-mail transactions between myself and the Distinguished Holder of our Chair in Naval Heritage, one Doctor Nick Lambert, a Brit by birth, a decorated historian (with military family connections) by education, and a delightful fellow in person, I offered to do a presentation to one of his classes in honor of Admiral Lord Nelson's Victory over the Combined Fleets of France and Spain at Trafalgar. Trafalgar Day is celebrated in the UK on October 21st but the battle foreplay (if I may use that term in a historical sense) actually commenced on the previous day. I have, in the distant past about the time the earth began to cool, employed Nelson's strategy that forced the battle and allowed British seamanship and gunnery to win the victory as the basis for the analytical approach to a Cost-Effectiveness Study for a C4ISR System called Multifunctional Information Distribution System (MIDS), also known as Link 16 for F/A-18. Our own Classmate, Rear Admiral Bob Ailes, was the system sponsor and was the chief audience for our progress reports. The study may very well have been the first credible effort to link a C4ISR system to military combat effectiveness using high level Measures of Effectiveness, bombs to target and US aircraft losses. C4ISR systems, such as MIDS, make their contribution to combat effectiveness by allowing Force Commanders to do something that they could not do prior to the incorporation of the C4ISR system, i.e. employ new tactics. The new tactics then lead to improved combat effectiveness that can be calculated (estimated?) by standard methods.

And so on the Glorious 19th of October I journeyed to Annapolis, dined in splendor at the restaurant chosen for the Combined 7th and 8th Companies Friday Evening Dinner next April, and arrived at the Farm at the appointed hour on Thursday, October 20th. Climbing the stairs of Sampson Hall was nowhere as easy as I recall, but luckily, I was not required to chop. Nick and I swapped stories for a bit over coffee and then proceeded to the Museum and a conference room which had been not available until Nick told the Director's Secretary that a Member of 1957 was coming as a Guest Lecturer at which point the wheels began to turn and the room became available. She might also have alerted the Corpsmen just in case.

The Midshipmen arrived, having proceeded independently from Mother Bancroft and sat around the Maury Table, a gift from old Matthew Fontaine's widow. I thought about asking for Straggler's Chits but decided not to pursue that avenue. When the class start time arrived, the senior Mid called "Attention" and all stood smartly. Doctor Nick then turned to me and said, "Sir, the Class is yours!" and I, temporarily nonplussed, waved a hand and said please sit. In a turnabout maneuver, I opened my rolling case and brought forth a bag of Honey-Crisp apples, fresh from West Virginia trees, and passed them out to all. Apples from, not for, the teacher!!

I naturally had sent Vugraphs ahead which was good because thumb drives never see the light of day inside the yard, a hanging offense, I'm told. And so I went thru two aspects of C4ISR systems in combat, Nelson's Battle Plan and MIDS. The midshipmen were attentive and one of them actually saw beyond the message I sought to deliver when he asked me a question that went at least one level beyond my presentation. Nick told me later that he was probably the sharpest one in the class.

After class, (70 minutes long) I was treated to lunch at the Officer's Club along with three of the members of the class. We had a delightful time over a tasty lunch with discussions that included the Old Days as well as the New Days! A fine time was had by all and I thoroughly enjoyed my visit. I strongly suggest that any who can make it arrange to sit in on one of Nick's classes. The Midshipmen have progressed well beyond the "plug the formulas" level and actually are operating at a level fairly close where I was after Post-Grad School. I left them a handout containing the below suggested Reading List:


A Suggested Reading List for Young Naval and Marine Officers
(If ever there is time to read non-official material!)
Charles R. Hall III
USNA 1957


John Keegan was a British Historian who wrote a number of books about warfare, some general and some specific. I will not give you a complete list of his works but you can't go wrong reading anything he wrote. Some of my own favorites are:

"The Price of Admiralty – The Evolution of Naval Warfare", 1988 (Admiralty here means "sea power " or "rule over the seas". See Kipling's "Song of the Dead" "… if blood be the price of admiralty, Lord God, we ha' paid in full …" Four of the most significant and important naval battles in history.

"The Face of Battle", 1976 (What it must have been like to be a soldier at Agincourt or Waterloo and other such battles.)

"A History of Warfare", 1993 (A sweeping view of the place of warfare in human culture over the ages.)

Wayne Hughes is a retired Naval Officer of the USNA Class of 1952 and a Classmate of mine from Naval Postgraduate School, Ops Research 1964. He is probably the smartest man I have met over my entire Naval and Civilian Careers and applies that brain in dealing with many matters, military and otherwise. Again, you can't go wrong reading anything he ever wrote. Highly recommended are:

"Fleet Tactics –Theory and Practice", 1986 (The first book about tactics in Naval Warfare since the early days of the 20th Century. Includes discussions of Missile Warfare at sea.)

"Fleet Tactics and Coastal Combat", 2000 (The Second Edition of the above book. Includes much new material on combat in the missile age and discusses littoral operations.)

Admiral Sir John "Sandy" Woodward, GBE, KCB was the British Admiral entrusted with the Task Force sent to rescue the Falkland Islands from Argentine capture in 1982. His account of that whole adventure is well worth the read. I learned from one of my good friends, a British Officer on duty in MOD UK at the time, that the Military Staff had been given some 13 planning parameters for the future and that they violated over half of them in the first few days of organizing for the rescue.

"One Hundred Days – The Memoirs of the Falklands Battle Group Commander", 1997 (The whole story from the beginning to the end of the most recent Naval Operations and maybe the last of its kind? BTW: The last submarine destroyed in actual combat was done in by British helicopters!! You could look it up!!)

I am attaching the PowerPoint Slides below for those who might be interested and will be happy to discuss this further over drinks and/or coffee if anybody is so inclined.

Oct 2016 USNA Pitch