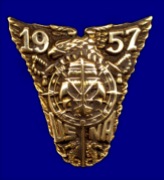 Association of the Class of 1957 Chat Groups

There are three Chat Groups associated with the Class. The first one, USNA57, was established in 1999 and maintained by Fred Dammann up until recently. USNA57 operates under Guidelines less rigorous than the second Chat Group, USNA 1957 Wardroom, established in 2010. USNA57 is managed, at present, by Gary "Bats" Pelphrey while the Wardroom is managed by Charlie Hall. The third group is USNA57_PHOTO_GROUP and was established in 2009 by, and is currently managed by, Gerry Sedor. All of the Chat Groups are restricted to members of the Association of the Class of 1957. Members of the Association may request membership in any of the Chat Groups by visiting the web site of the Group and clicking on the Blue Box containing "Join This Group" in white text or by following the instructions below (or within) the individual Group Guidelines below. The web sites of the three Chat groups are:

USNA57
http://groups.yahoo.com/group/USNA57/

USNA 1957 Wardroom
http://groups.yahoo.com/group/USNA1957Wardroom/

USNA_PHOTO_GROUP
http://tech.groups.yahoo.com/group/USNA57_PHOTO_GROUP/

The sections below provide Guidelines for the use of the various Chat Groups. USNA57 Group Guidelines have been reviewed and approved by our class officers and will be issued to all members automatically by Yahoo Groups. A copy is posted on the Files Section of each Chat Group and all members will be notified of any changes. Recommendations for change should be submitted to the class Executive Council Committee via our Class Webmaster for consideration.

The E-mails that announced the establishment and procedures for joining the Wardroom Chat Group are reproduced at the bottom of this Page.


USNA57 Chat Group Guidelines
Approved 29 April 2000

The USNA57 Group provides a free, easy place where you can share ideas with classmates and their survivors. Classmates of all types and persuasions participate in our group, and sometimes their opinions may conflict with those of other members. Common courtesy and adherence to these guidelines will help our list to be a pleasant and meaningful experience for all hands. Please observe these pointers, and enjoy the group services provided:
1. Do not harass, abuse, or threaten other members. If a heated argument arises in our group, either ignore any unfair comments or respond in a way that doesn't fan the flames.
2. Do not post content that is obscene or otherwise objectionable.
3. Focus on topics of interest to our group.
4. Don't post copyrighted content without permission from the owner.
5. Ensure that all material content sent to the group is suitable for discussion in mixed company.
6. Do not use this group to promote commercial ventures or to forward chain letters.
7. Be careful in replying to postings to only include enough material to identify the question you are referring to. Respond to and reference individual messages not daily groupings. Keep forwarded prior messages (tails) to a minimum.
8. Do not use the "Reply" button in your responses to messages when you intend them for individuals. Use the individual's address and avoid offending other members
These are broad guidelines designed to ensure our Yahoo Group can be used by all hands in a free and unfettered fashion. Disregard of these guidelines may force restriction of privileges.

To join the USNA57 Chat Group use the link below:
USNA57 Chat Group

USNA 1957 Wardroom Chat Group Guidelines
Approved 10 March 2010

The USNA 1957 Wardroom Chat Group provides a free, easy place where you can share ideas with Classmates and their survivors. Classmates of many persuasions participate in our Chat Group and, sometimes, their opinions may differ from those of other members. Common courtesy and adherence to these guidelines will help our list to be a pleasant and meaningful experience for all hands. Please observe the below guidelines and enjoy the services provided by the Chat Group.

1. Focus on topics of interest to our group. Subjects acceptable in the Wardroom will be those generally concerning Class business and activities, the Naval Academy, the military services, and personal experiences reflecting on who we are. It is not possible to identify every acceptable or unacceptable subject, but there will be a strict proscription against the posting of political commentary, regardless of source. Jokes or stories unrelated to who we are or those that do not conform to normal wardroom etiquette are not acceptable.

2. Just as monopolizing the conversation in the Wardroom is considered poor manners, so is flooding the Chat Group with multiple messages of little interest to the company at large.

3. Ensure that all material sent to the Chat Group is suitable for discussion in mixed company. Do not post material that is obscene or otherwise objectionable.

4. Do not harass, abuse, or threaten other members. Avoid demonizing other members. If a heated argument arises, either ignore any unfair comments or respond in a way that doesn't fan the flames.

5. Be careful in replying to postings to include only enough material to identify the topic to which you are referring. Respond to and/or reference individual messages, not daily summaries. Keep forwarded prior messages (tails) to a minimum.

6. Do not post copyrighted content without permission from the owner.

7. Do not use this list to promote commercial ventures or to forward chain letters.

8. Do not use the "Reply" button in your responses to messages when you intend them for individuals. Use the individual's address and avoid offending other members.

These are broad guidelines designed to ensure that our Chat Group can be enjoyed by all hands in a socially acceptable manner. Disregard of these guidelines will lead to restriction of privileges.

To join the USNA 1957 Wardroom Chat Group use the link below:

GUIDELINES FOR THE OPERATION OF THE USNA57_PHOTO_GROUP SITE


1. This site is established for the exclusive use and benefit of the members of the U. S Naval Academy Class of 1957 and their families. Its purpose is to provide a forum for members to exchange information related to photography and photographic systems, equipment, software, etc., and to enable them to post their photos on the site.

2. Eligible persons become members of this Group by sending an e-mail request to the Group Coordinator at:
gsedor@yahoo.com.

3. Upon becoming a member of this Group, members are requested to fill out the personal information listed in the database. This can be done by clicking on :Database", then "Group Contact List" and "Add Record". Input the data requested, then click on "Add Record".

4. Members are encouraged to post photos. This can be done in the Photo Section, and should be done in Album form. Members are requested to use the format shown in the Photo Section (e.g., use last name and short description for album title).

5. The generally accepted rules for appropriate conduct in Navy Wardrooms apply to this site. In particular, any discussions relating to politics, women, or religion are not appropriate. It is intended that discussions be limited to matters relating to photography.

6. Comments or suggestions for additions to or improvements of the site are encouraged and should be directed to the Coordinator at: gsedor@yahoo.com.

Approved by:

Gerald Sedor
USNA 1957 (4th Company)
Group Coordinator

From our Class President on 3/10/2010:

Dear Classmates:

The purpose of this email is to announce a new Class chat grup titled "USNA 1957 Wardroom". It is my hope that this new group will provide a site for Classmates and their widows to converse in a reasonable manner on a limited range of subjects similar to what is appropriate in a ship's wardroom. Subjects suitable for the Wardroom Chat Group will be those generally concerning Class business and activities, the Naval Academy, the military services, and personal experiences reflecting on who we are. As you can see, this is rather limiting but the existing USNA57 Chat Group will continue as the appropriate site for everything else such as political commentary, clips from other sites, newspaper articles, medical developments, jokes, forwarded advice, etc. All members of the Class Association are eligible to be members of either one or both groups.

This new chat group will have published guidelines which I intend to have strictly enforced. After appropriate warnings, offenders will have their posting privileges removed. The existing USNA57 chat group will still be available for them to post their messages and will have less restrictive guidelines with minimal enforcement.

Together with other members of the class, I have made several personal efforts seeking the cooperation of some of those who use the current Yahoo USNA57 Chat Group to post messages with consideration for others, to moderate their sentiments and language, to limit the quantity of their postings, and to read and adhere to the rules posted for use by the Group. Unfortunately, nothing has changed. I am also disturbed that many classmates have opted to unsubscribe or not participate in this chat group because of the situation described above. Since I do not expect that there will be any significant improvement to the existing conditions in the future, I am implementing this second chat group so that there will be one class chat group where civil discourse can exist.

I should tell you at the outset that among those polled for solutions, there was substantial sentiment for simply closing the current Chat Group, which would certainly have been a straightforward solution. The plan I am implementing recognizes the fact that many Classmates would have thus been denied the convenience and enjoyment of communicating with old friends and shipmates through no fault of their own. This plan has been approved by the leadership of the Class. It is our sincere hope that this plan will permit the benefits that technology affords us to be used by all that so desire. Charlie Hall, as Class WebMeister, will publish instructions for joining "USNA 1957 Wardroom", both on this site and through Jack O'Donnell's E-mail List. Guidelines for the new Group will be included in the "Files" section of the new Group and will be emailed individually to every joining member.

Although I won't go so far as to say all of your comments about this change will be welcomed, they will be read and answered as I see fit. The above plan is not up for discussion, it is a done deal. If this fails, the probable next step would be to shut down all class chat groups.

All the Best,
Dave Cooper
Class President


From the Class WebMeister on 3/10/2010:

Esteemed Classmates:

I have established the new Yahoo Chat Group that Dave discussed. It is separate and apart from the current Chat Group called USNA57. The administrative settings are similar to the current Group in almost all cases except for the name: USNA 1957 Wardroom. This name was chosen to remind all of us that participation in this new Chat Group is governed by Wardroom rules that will be strictly enforced.
Joining USNA 1957 Wardroom is simple. You enter the URL:

http://groups.yahoo.com/group/USNA1957Wardroom/


in your browser. That will take you to the Home Page of the new Group. You will see a blue banner about one-quarter down the page that describes the Group. Below and to the right you will see a blue box with white text that says "Join This Group". Click on that box to go to the Yahoo sign-in page. Sign in there if you have a Yahoo account or establish a Yahoo account if not. The account establishment process is easy and takes but a minute or so.

After you sign in or establish a Yahoo account, you will be taken to a page that contains instructions for joining the Group. Three sections are shown: (1) Contact Information that tells Yahoo how to send you messages plus a box to write a short note so that I can be sure that you are a member of the Association of the Class of 1957 (Name and Company will do fine. Sometimes names are hard to guess from e-mail addresses.), (2) Message Delivery - self-explanatory, and (3) Message Preference (I recommend "Fully Featured") plus a "Type the code below" box which is some sort of security thing. Then click the "Join" box at the lower right hand corner.

That will take you to a "Membership Pending" page. Thereafter, either Yahoo or myself will execute the remainder of the joining procedure. You will receive an e-mail confirmation when your membership has been approved. All members will have non-moderated posting privileges unless and until there is reason to change individual member's privileges.

All are welcome to join and enjoy the "Communication-With-Classmates" capability that this new Chat Group provides. You will receive an e-mail copy of the Wardroom Chat Group Guidelines once you have been approved. They are also posted in the Files section of the Chat Group. Also I recommend that all members of USNA 1957 Wardroom review Dave's e-mail announcement that describes the expected decorum of the group.

If anybody has a problem with the joining procedure, please contact me at crhall@comcast.net or (304)262-4020. I will be happy to help in any way I can.

Best Regards,
Charlie Hall
Class WebMeister