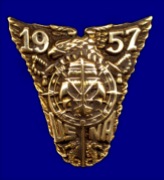 Reports on our Naval Heritage Chair


From Bob Crouch

Naval Stewardship Review time again for our Chair In Naval Heritage.

The attached Report provides the financial status of our Chair Fund for FY 2021
as of 30 June 2021. The performance of our Fund was again very positive and
reflects sound management by the Foundation.

On the Income side, The Net Investment Earnings was $441,446, the
second highest year for the 18 years we have been tracking our Fund's
performance. In addition to Investment earnings, we received $26,291 in new
Gifts and Pledges.

On the outlay side, there was the routine Management Fee of $23,850 and
a modest $245,000 disbursed to the USNA in support of the Chair Incumbents.

The bottom line for 2021 is that our Cash Equity Balance increased by
about $200,000 to $2,001,721. In reviewing our original assumptions and
projections for the desired life span for our Fund, the most notable variant
is in the Outlay to the USNA. We assumed a start Outlay of about $200,000
per year in year one and indexed for inflation, that number in 2021 would be
in the $300,000 plus range by 2021.

The question has always been, will the Fund perform for a desired 20
plus years. The answer is now, YES.

Warmest regards and hang in there.
Bob Crouch


From Dr. Tyler A. Pitrof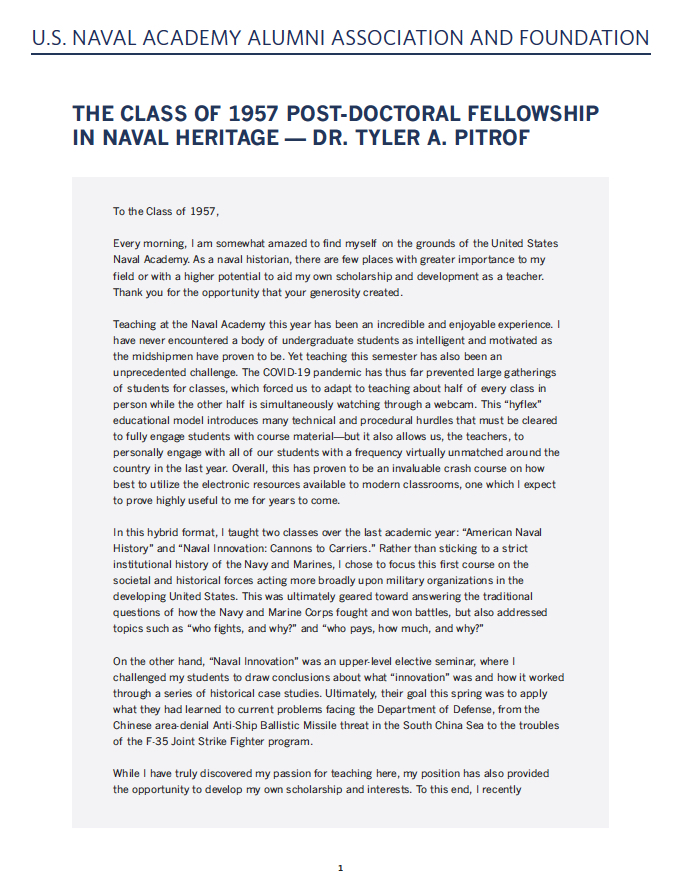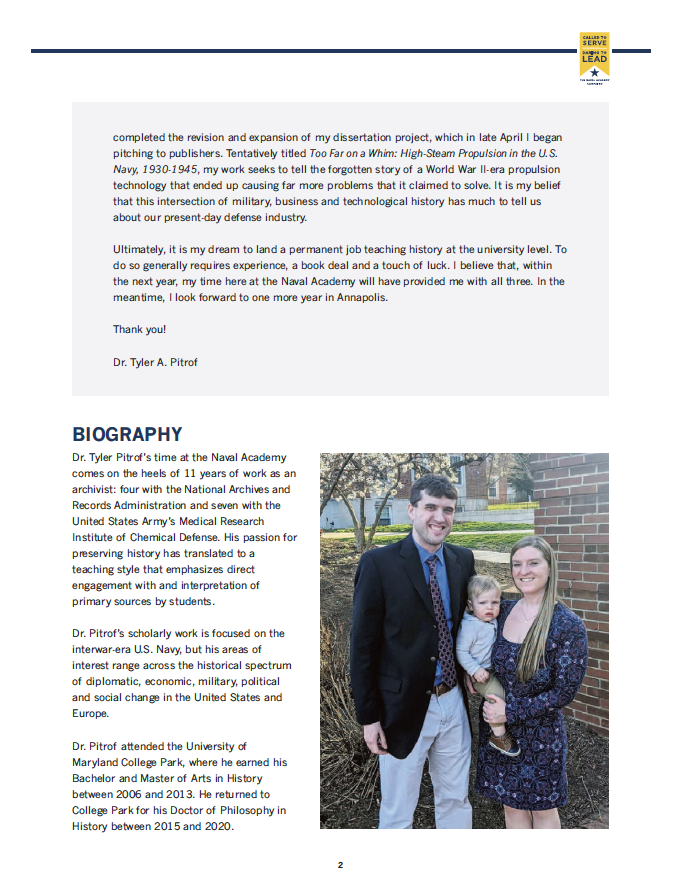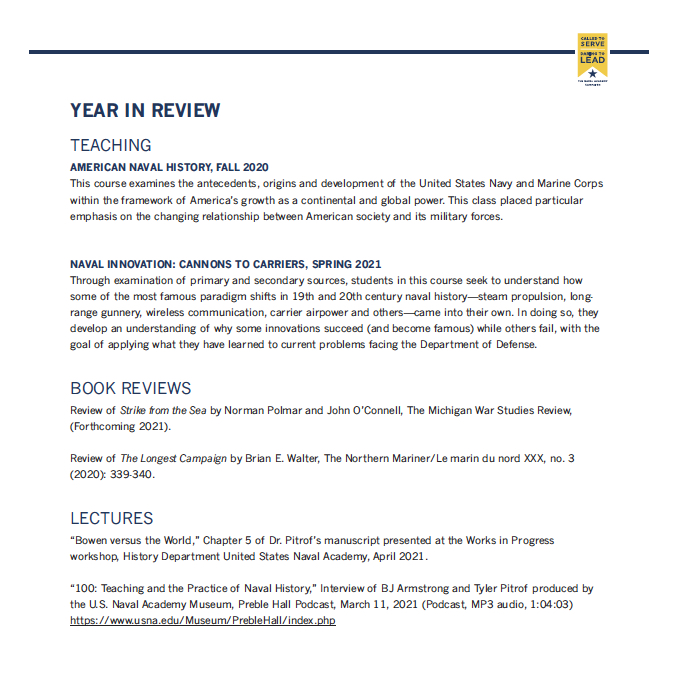 Commodore Dudley W. Knox Honors

The Naval Historical Foundation selected Dr. Kathleen William, Ph.D to receive the 2021 Medal for lifetime achievement in the profession of Naval History. See the Letter Report below.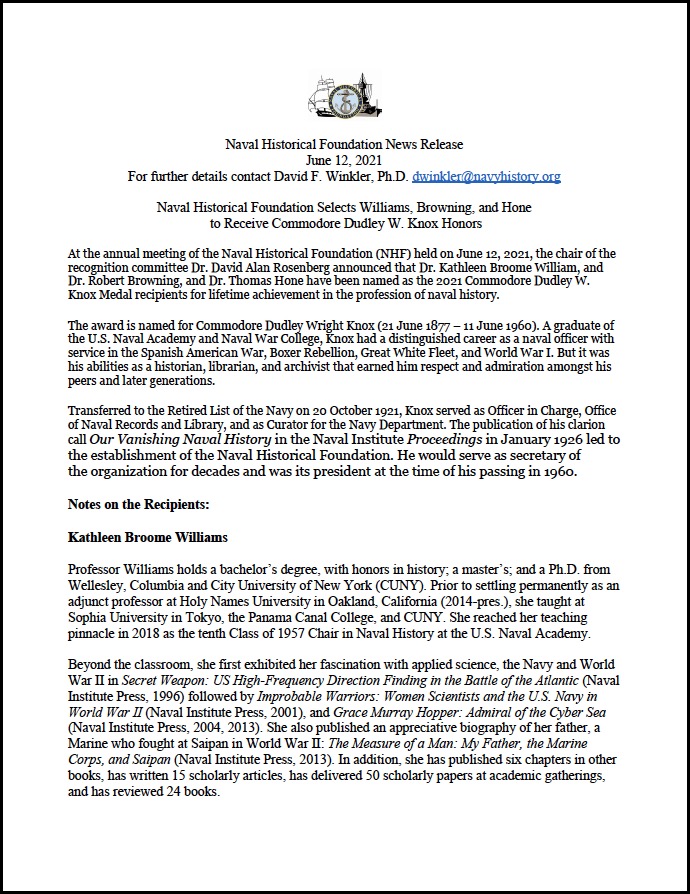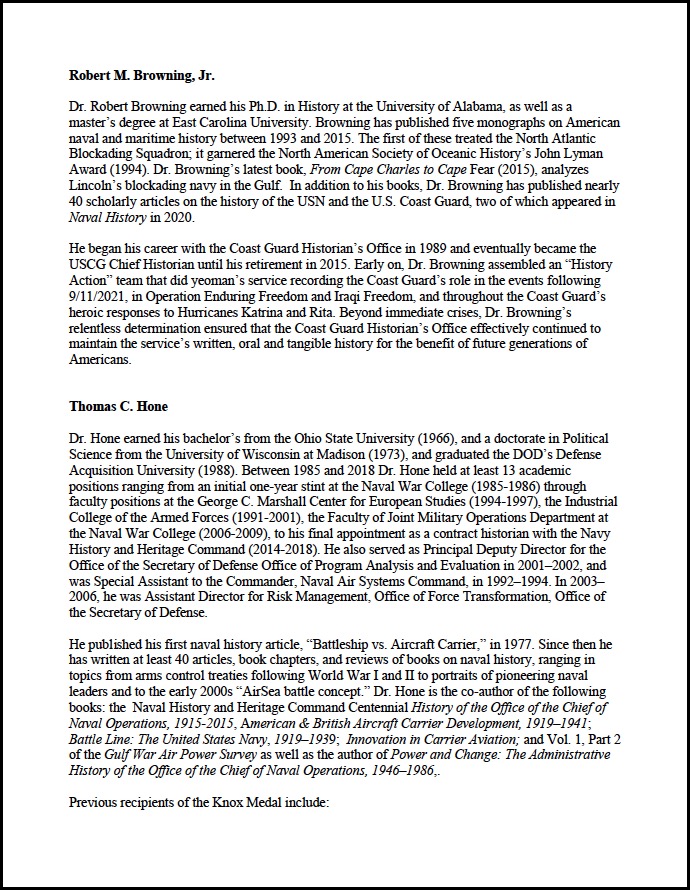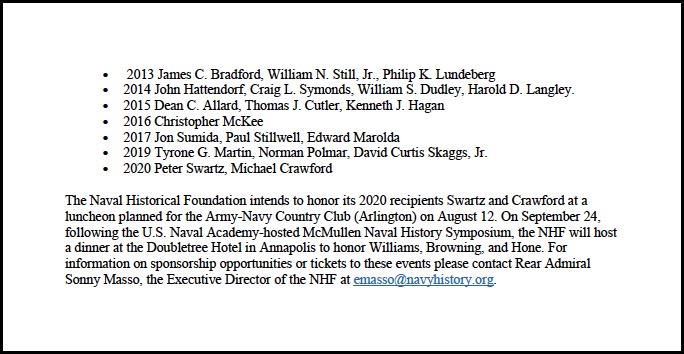 Below are two files received in September 2020 that report on the financial status of our Heritage Chair Program.

Stewardship Review time for our Chair in Naval Heritage. The attached
Report provides the financial status of our Chair Fund for FY 2020 as of 30
June 2020. The performance of our Fund in 2020 was very positive and
somewhat unexpected considering the turmoil in our World and the Financial
Markets. Good news is hard to find so lets just keep it simple.
On the income side, the Net Investment Earnings was $98,548. The
Foundation reports that such positive performance was due to a shift in the
investment strategy to Hedge Funds at the beginning of the Market turmoil
that worked out well for our Funds. In addition to net investment earnings,
we received $26,000 plus in new pledges (gifts).
On the outlay side there was the routine Management Fees of $23,811 and
"only" $100,000 disbursed to the USNA in support of the Chair. We can not
reconcile exactly why that number is lower than expected. My limited
discussion with the Foundation would indicate that in the turmoil of
Incumbent turnovers in the Chair and Post Doc recruitment endeavors, the
USNA absorbed most of the related administrative costs. So be it.
What is the bottom line? Our Cash Equity Balance remains at $1.8
million plus. If we assume no major financial market traumas in the near to
midterm, our 20 plus year desired lifespan for the Chair is well within
reach.

Warmest regards, hang in there, better days will soon be here,
Bob Crouch



1957 Chair Fund Status Report - FY 2020 Final Preaudit




Below are several reports received by Veep Bill regarding our Chair and its occupants. Last received first in order.

I was asked by Dave Cooper to highlight Dr. Folse's kind words about the participation of our Class Veep, Bill Peerenboom. However, due to my limited knowledge of the inner workings and hidden mechanisms of my computer, I am unable to do that. Therefore, as a small substitute for highlighting text, let me refer you to Dr. Folse's final page and pretend that the paragraph titled "Thank You" is highlighted. Sorry that I cannot do better but there you have it!!



Stewardship Report 2019-2020 Class of 1957 Post-Doc Fellow in Naval History


Stewardship Report 2019-2020 Class of 1957 Chair of Naval Heritage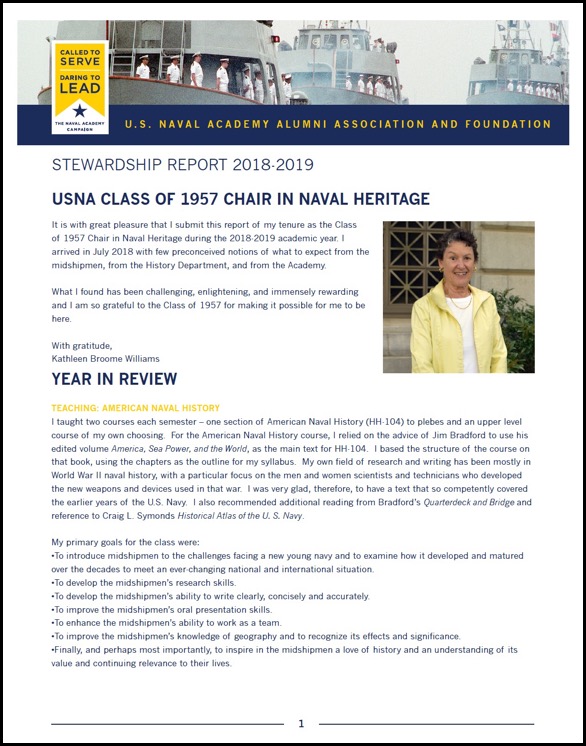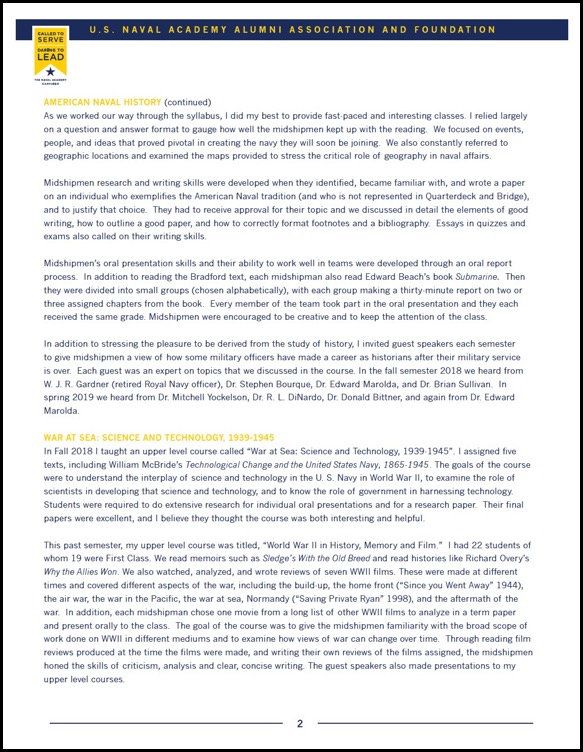 .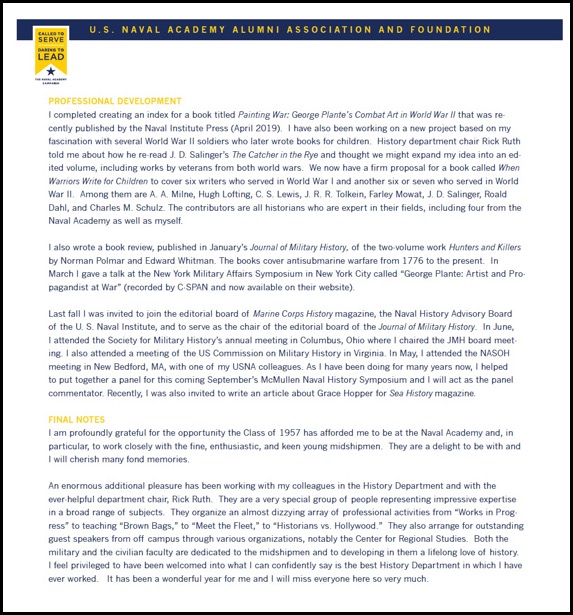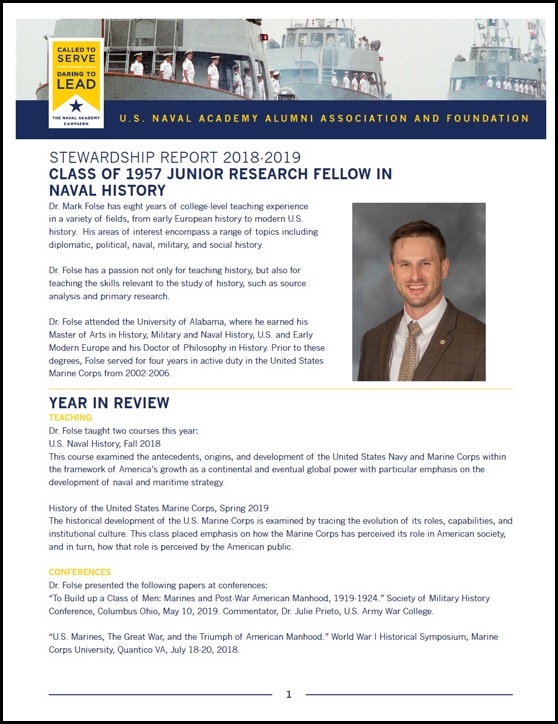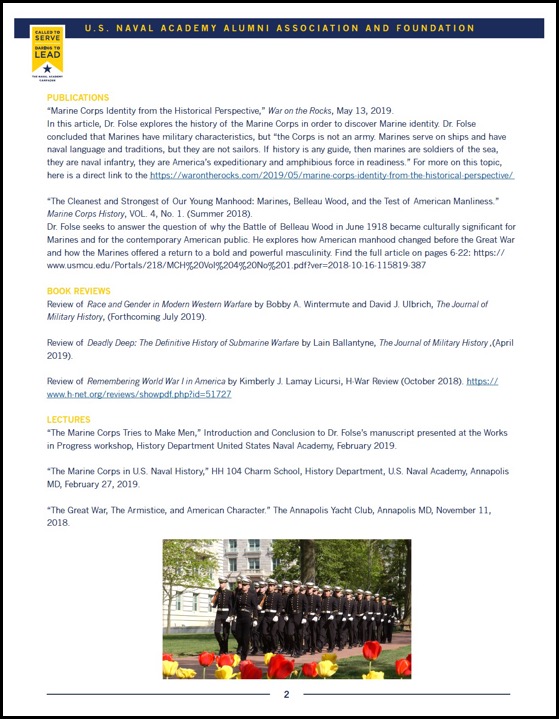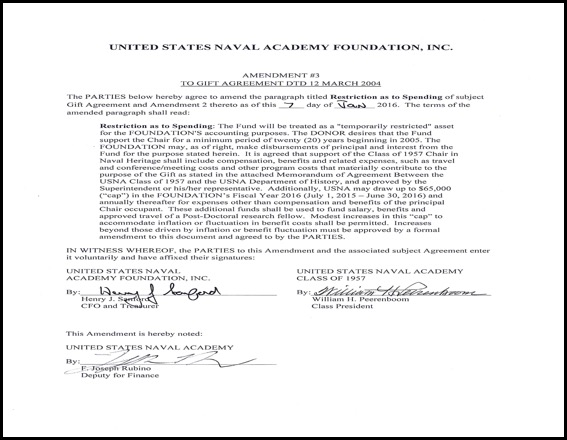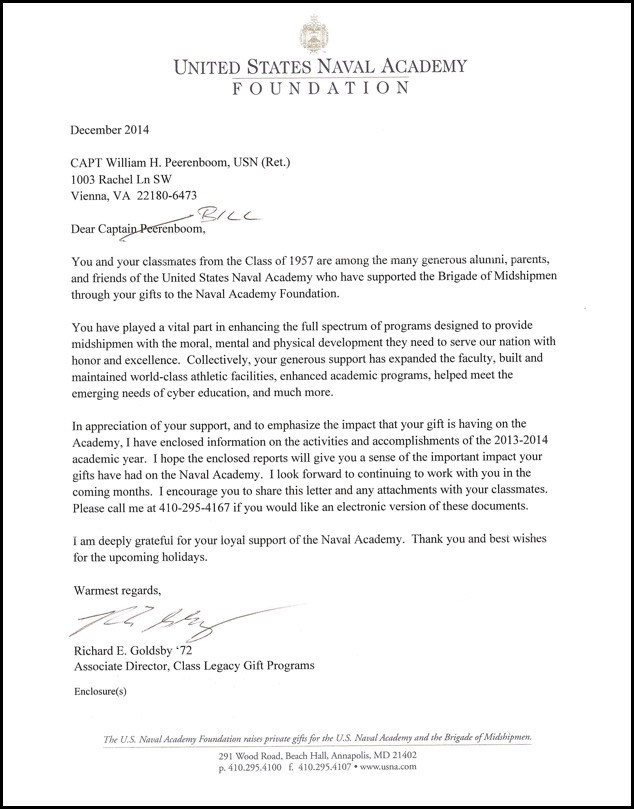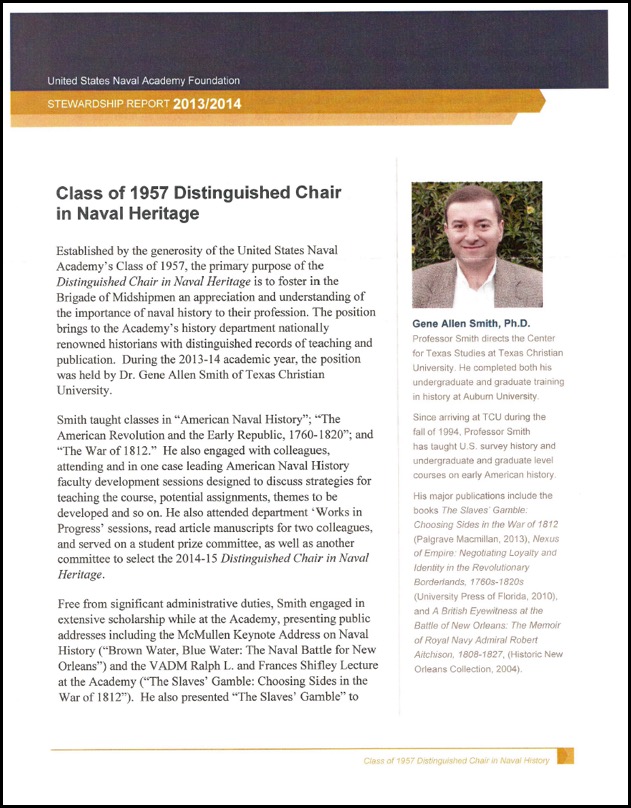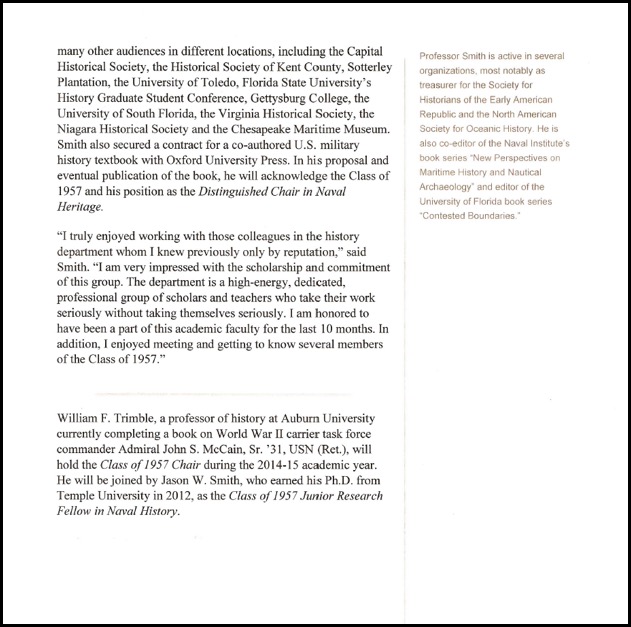 Here's an Update on the Naval History Text currently in progress.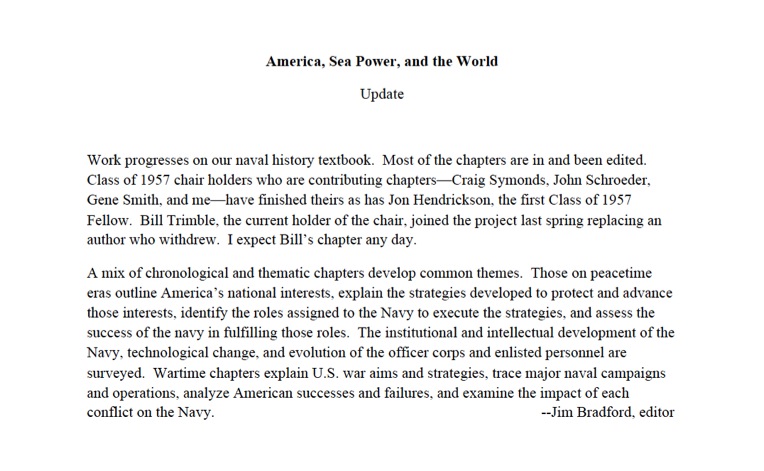 A report from Bob Crouch on the history and current status of the Chair fund.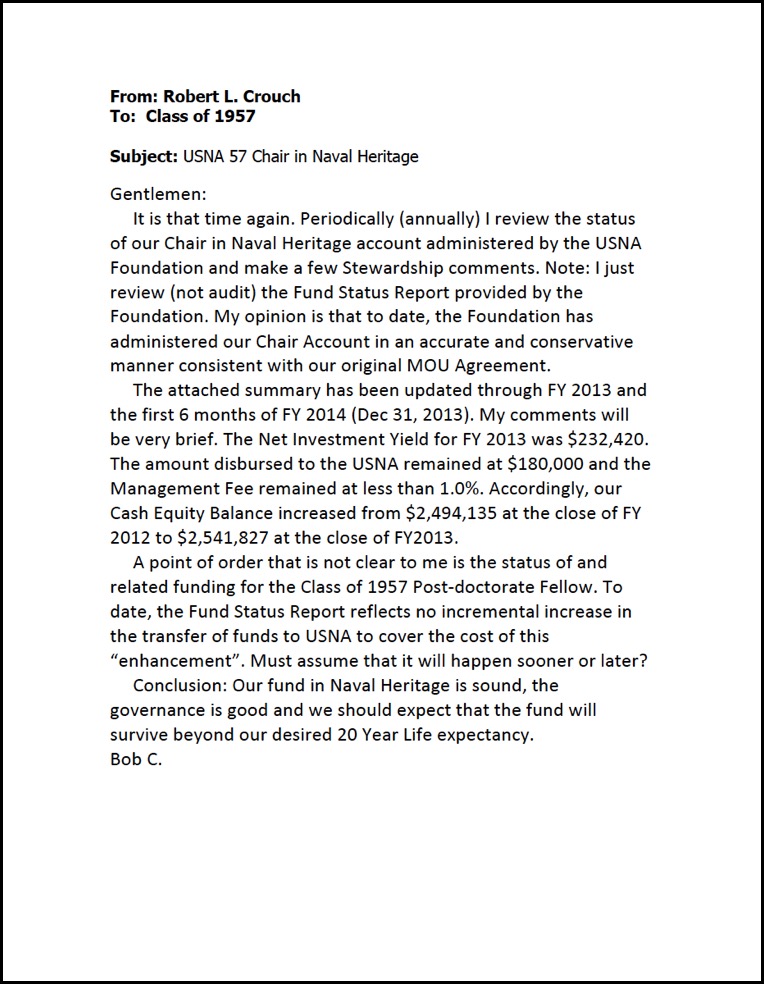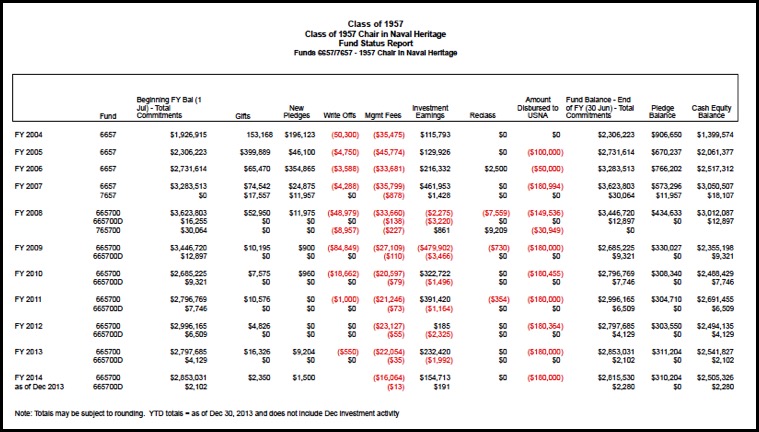 Other correspondence from various sources: