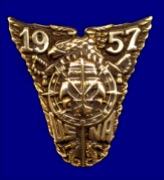 HISTORY
1.
"We Die Alone"
by David Howarth (George Bouvet)
A fascinating account of a Norwegian hero who along with his mates tries to reach northern Norway during WW II to destroy a German airbase and allow Allied ships to reach Russia without being attacked by German aircraft.

Unfortunately all of the crew except for one are killed. The story of how this individual escapes to Sweden and his near death experiences and the rescue efforts of his countrymen will impress you.

Published originally in 1955
3.
"
The Pacific"
by Hugh Ambrose (George Bouvet)
A good but tough read about the activities of several marines and a Naval aviator in WWII.
The tough battle conditions and the bravery of our troops is in contrast to the lousy leadership of McArthur.

Published 2010


4.
"BONNIE-SUE, A Marine Corps Helicopter Squadron in Vietnam"
by Marion F. Sturkey (OC Baker)


This is our story, told some twenty to thirty years later, but as chilling and touching to us who were there as if it took place yesterday. Who are we? We are every Marine helicopter flight crew member who flew in Vietnam.


The Marines of HMM-265, call sign "BONNIE-SUE", arrived in Vietnam as a squadron in May of 1966 to begin individual 13 month tours of duty. But the author does not limit the action and scope of this book to just his time period "in country". He sets the stage geographically, culturally, and historically with a prologue that begins during the first millennium B.C. and marches the reader smartly through Chinese, Japanese, and French occupation of Vietnam, the fall of Dien Bien Phu, Operation Shu-Fly, the disastrous and heroic evacuation of the ARVN camp in the A-Shau Valley, and ends in the summer of 1966 with the beginning of "...... Real warfare, siege warfare, 24 hour artillery duels, WW I style trench warfare, regimental attacks pitting thousands of Marines against the North Vietnamese Army......" in Quang Tri Province.

Then begins the heart of the book: What it was like to fly the workhorse transport helos, H-34's and H-46's, in country. Lieutenant Sturkey serves up a compelling mixture of anecdotes, facts, criticism, conjecture, philosophy, humor, terror, tragedy, triumph, defeat, survival, and loss that takes the reader along both in the cockpit and on the ground with the grunts. The dedication of Marine to fellow Marine, regardless of military occupation, is a recurring theme. The number of times that a helo flight crew member puts his life, and that of his fellow crew members, at risk on behalf of a Marine on the ground is beyond count. It is the natural flow of this story because the pilots, crewchiefs, corpsmen, and gunners made it that way. If only our national leaders had felt the same devotion to those they had sent off to war, the story would have ended differently.

The requiem, what an appropriate word, begins with the peace talks in Paris in May of 1968, proceeds through the release of the POW's, the USA resuming full diplomatic relations with Vietnam in 1995, and ends with a brief personal retrospection "what did it all mean?"

If you are one of us and want to let a family member or civilian friend know what it was like in country, give them a copy of this book. If you are one of us and want to reach out to another one of us to say "I remember", give him a copy of this book. If you are one of us and want to rekindle the warm helicopter memories in some grunt friend's heart, give him a copy of this book. If you are one of us and want to let some fixed wing pilot friend know what the war was really like, loan him this book, and.............if you get it back, loan it out again.


Published 1996
7.
"
Undercover Tales of World War II"
by William Breuer (Allen Hemphill)


A person who writes columns will never face writer's block if they find a news portal, like Drudge; chase stories that entice; blog about them, and then expand those blogs getting the most inflammatory remarks from political opponents, into published columns.


I found a book portal – a book that offers vignettes so powerful that chasing the interesting limbs of that tree through printed and audio books can last a long, long time.

The book is Undercover Tales of World War II (I bought the Audible.com, unabridged edition), and that piqued my interest in Gunwald Tomstad (about whom I have reviewed (In the Shadow of the Gestapo), and now Venona – Decoding Soviet Espionage in America (about which, more in due course), and soon books on Elizabeth Bentley, whose defection in 1945 virtually deactivated the huge Soviet intelligence that permeated the WWII era US government.

(That was then confirmed when the code-breaking project named Venona – finally revealed in 1995 as the result of Sen. Daniel Patrick Moynihan's efforts) -- actually brought to light 171 cover names and equated them to people, confirming for example the guilt of the Rosenbergs and the accuracy of Whittaker Chambers.)

(179 other cover names were never matched, and await history)

But the portal book is Undercover Tales of World War II, available either through Audible.com, or Amazon.

Other vignettes may lead you on some other trails that interest you. This trail will not be played out for me for many weeks.


Available Audible.com and Amazon.com
8.
"
The Shadow of the Gestapo"
by Astrid Karlsen Scott (Allen Hemphill)

True story of the Norwegian Resistance. Well written in a "just the facts" manner – no real boy/girl, little personal interest, lots of spy vs spy. Gripping tale, well told.

Gunvald Tomstad was a very young Norwegian farmer who had just inherited his grandfather's 100+ acre farm – in fact he was only 20 years old – when the Nazi's invaded Norway and occupied his tiny town.

He shocked his town-people by joining the local Nazi Party and rising rapidly in their ranks – shocking because he was a known religious pacifist in his upbringing. First shunned, and later hated and scheduled for assassination by the very active Norwegian Underground, only a few at the very top level of the Underground knew that Gunvald was working for the Underground right from the start.

Nazi by day as he trooped around town in his NS uniform (the Norwegian branch of the SS), at night his home held the secret Underground radio that had contact with London. It was from this radio that the sighting of the world's most powerful battleship, the German Bismarck, was reported to be hiding in a fjord.

(The British sent a fleet, and in the ensuing battle the Bismarck was damaged, the British Cruiser Hood was sunk with 1,700 dead, and the Bismarck fled to be found by British torpedo bombers which sunk her with 2,000 dead.)

Try as they might, the Gestapo could not locate the British transmitter, even when they direction-found the location to be the Tomstad farm – Gunvald was such a high Nazi official that they never searched his home where he even rented a room to the local Gestapo Police Chief and the high local Nazis gathered to drink fresh milk and eat honey.

Though many score of Underground were tortured (and many died,) no one (even those who knew) revealed his name, until one in torture gave a clue and with less than an half-hour head start, Gunvald fled in the night ahead of his Gestapo former friends and several months later was sneaked into Sweden and then to London.

Only then could his mother walk the streets of the town – before, she too was shunned.

The Norwegian Underground was very active in their killing of Nazis and the destruction of facilities, as were the French, Polish and other underground movements. One French cell had 3,000 members just by itself before the cell was broken up for security reasons into more manageable units.

The HEROIC Resistance to the Nazis is a subject I commend to anyone interested in modern history. Bravery beyond reason.


9. "
The Long Road to Annapolis
" by William Leeman (Pete Boyne)
"The Long Road to Annapolis" by William Leeman tells the story of the founding of the Naval Academy. Leeman is a history prof at West Point and does an excellent job of describing the politics from Thomas Jefferson's time to 1845. His research covers the good and bad times of the Navy during that time and brings back memories of plebe year Naval History. The finale is George Bancroft's opening the Academy without Congressional approval, a great political move.
Published by University of North Carolina Press, 2010. Available at Amazon.com.
14.
"Twelve Desperate Miles"
by Tim Brady (George Bouvet)
An exciting account of the planning, preparation and execution of the invasion of Morocco in WWII.
A huge convoy with troops led by Gen. Patton crossed the Atlantic and were assisted by a Moroccan river pilot who guided a destroyer and a converted banana boat up a river to a strategic airfield.
Published 2012
15.
"War on the Waters-The Union and Confederate Navies-1861-1865"
by James M. McPherson (Pete Boyne)

Interesting read to understand the personalities, tactics, strategies, politics and courage of both forces during the Civil War. The assignment and relieving of flags and COs was handled by SECNAV and the President- no BUPERS in those days. Cooperation of Army and Navy flags to gain ground especially on the Mississippi was eye opening despite the newspaper reports of the day.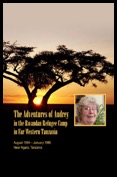 17.
"
T
he Adventures of Audrey in the Rwanda Refugee Camp in Western Tanzania, August 1994 - January 1995"
Assembled by Charlie Hall in 2016 and published privately.

I found a short draft of a paper written by Audrey upon her return from the camp. I wrote a prologue to explain a little of the history of the massacres and assembled the book using her draft, her letters home, and some of the photos that she took while over there. An Appendix includes her obituary, the eulogy that I gave for her, and an e-mail from a dear friend of hers from the camp. Electronic copies can be made available by request to me at
crhall@comcast.net
.



18.
Sea Power: The History and Geopolitics of the World's Oceans by Adm. James Stavridis (John Shewmaker)

The History and Geopolitics of the World's Oceans. The Admiral (USNA '76) earned a PhD and is now a professor at Tufts University. He retired as the first admiral who served as Supreme Allied Commander at NATO. He discusses each ocean in turn, then the major seas and summaries.


The Pacific is first and he follows an outline that he uses often, describing it, his first sailing – usually in a DD, brief history (Magellan, Cook, Russians, Perry, Japan, USA, WWII) then current status and politics.

After the Atlantic and Indian, he turns to the major seas: Med. (that he first entered on a CV), South China and Caribbean/Gulf of Mexico, then the Arctic; using the same basic outline for each.

He then deals with the perils of the oceans as a whole. These include piracy, fishing and the environment. Navies are working together on piracy – horn of Africa, Gulf of Guinea – such cooperation could be a model for solving other problems such as fishing but in this case too much money is at stake. In addition to oils spills, there are problems with runoffs through rivers to foul the ocean.

His final chapter is titled "What to Do". He updates Mahan and treats the USA as a maritime nation with needs for an open ocean, alliances and partnerships, undersea cables, communications, and capability for cyber warfare. He favors a 350 ship Navy with 12 CV groups, keeping and expanding Gitmo, partners with current ones plus India, keeping a 5th Fleet in the Caribbean, a fleet in the Persian Gulf and procuring ice breakers for the Coast Guard in the Arctic.

This book is an easy read and worth the time.

19. Commander In Chief by Nigel Hamilton (George Bouvet)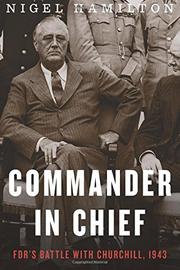 .
U
nder Pressure - The Final Voyage of Submarine S-Five by A. J. Hill
This is a compelling account of courage and perseverance under the most difficult circumstances. Anyone who aspires to command a ship of the United States Navy would do well to emulate Captain Cooke's leadership, initiative, and perseverance.

It is
exceptional on two accounts. It is the true story of the U. S. Submarine S-Five's final voyage in 1920, and of her captain, LtCdr Charles "Savvy" Cooke, who graduated number two in the USNA Class of 1906.


As I read the account of S-Five's last voyage I wondered what the future held in store of Savvy Cooke. Thankfully, the author, A. J. Hill, answers the question. Reading the book you quickly become an admirer of Capt. Cooke - and your opinion will be reinforced by the account of his subsequent service.

While most of us know the story of the Squalus, the S-Five is less well known - but perhaps more inspirational.
COMMANDER IN CHIEF by Nigel Hamilton | Kirkus Reviews
www.kirkusreviews.com

A detailed look at Franklin Roosevelt's role in the Allied strategy midway through World War II, with an emphasis on his relations with Winston Churchill.