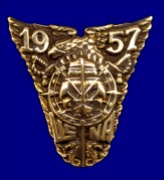 CLASS AUTHORS



This Page is reserved for the works of our published Classmates. There have been some suggestions that the subject page should include reviews of all the literary works authored by members of this Great Class. I would be happy to include reviews of any such works if only I had the material in hand. I do not plan to write those reviews myself and so I am inviting all such distinguished authors to send me a short summary of their work along with, hopefully, a JPG photo of the cover. Please e-mail reviews direct to me at crhall@comcast.net.

I will then do my own magic and transmogrify your submissions into the form and substance required for the Web Site. It matters not how long nor how erudite your work might be. All are invited. Many Classmates would find them interesting, perhaps so much that they might rush out and buy their own copy.


10. "Portraits in Brass" by our own Dick Toner (Jim Gallager)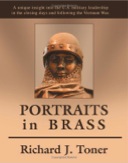 "Portraits in Brass" is an inside look at the personalities, Tleadership attributes, and decision making abilities of some of our top military leaders in the '70s and '80s, written by one of the few direct, day-to-day observers during this critical period in our nation's history. As a member of the very small staffs of four of our top military leader of the period, the author served as a personal advisor to men who were instrumental in extracting us from the Vietnam War and others who took on the challenge of rebuilding the forces who had been decimated by this unpopular war. His observations and remembrances came from a daily diary kept throughout the period, which lend a singular credibleity to the events and actions of the time. While avoiding the tendency to be a cheerleader, his reporting is objective, factual, and insightful. A number of incidents, which gained international media attention, take on a different perspective when viewed through they eyes of one who played a direct role in the events. No back stairs tell-all or rumor-lover's expose, Portraits in Brass lends a credible dimension to one of the most emotionally charged periods of late 20th century.


Published 2008.


11. "Organizations in the Movies" by our own Steve Sloane (G. Miki Hayden)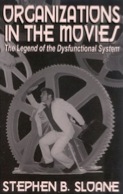 Everyone loves the movies, even academics like Dr. Sloane, who teaches political science at a liberal arts college in California. In this book, a perfect text for a university course but readable for any reader interested in the sociology of film, Sloane examines how individuals interact with social constructs--as mythologized in our contemporary balladry--film.

Sloane's stated intention with this book is to look at the "...tension between what it means to be a human doer and what it means to be a human being" by considering how people behave as participants in organizational life. He posits that our roles in the organization can be a source of our unhappiness, and that film and its examples of how others confront, or in some way deal with their organizational, role can prepare the rest of us to cope in similar or dissimilar fashion.

Looking at films such as "Twelve O'Clock High" (about daylight bombing in Europe during WW II), "Electric Horseman" (in which a famed cowboy sells his image to corporate America), "Groundhog Day" (the saga of how a "cog in the wheel" of a local news team finds his humanity), "2001: A Space Odyssey" (in which the machine rejects its human project partner) --and others--Sloane reviews the types of solutions protagonists and antagonists have found regarding their position in the grander scheme of things.

Part of the pleasure in reading the book is being reminded of some favorite films (I told you we love movies) and part is in seeing those films in a brand new light. The dramatic story of a military psychopath in "A Few Good Men," under Sloane's tutelage becomes the plight of a zealot confronted by an organization that has its own, more moderate and culturally accommodating views. In "Getting Lost in America," what we see as a comedic flight from corporate life is viewed by Sloane as a journey allowing the protagonists to see more clearly what they really need and want--what they had before. Thus, the author gives us a peek into another context.

Once we see Sloane's point in the films he chooses to expose to our view, we are more open to regarding many other moves in the same way and to better our own situations through a reinvigorated understanding of the social organism as a whole.
12. "Gold Stripes on a Jackass: The Quest for Moral Efficiency" by our own Steve Sloane (Carter McNeese)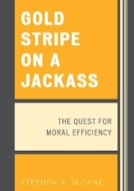 My classmate and closest friend from the U.S. Naval Academy, Steve Sloane, has just published a terrific book titled GOLD STRIPE ON A JACKASS: THE QUEST FOR MORAL EFFICIENCY. The title comes from one of our instructors from plebe summmer named Shorty, a salty, retired chief petty officer who taught us marlinspike seamanship -- how to tie knots and the like. Shorty (whom I confess I don't remember) would often punctuate his remarks with the observation: "Gawd damned it, you can put a gold stripe on a jackass, but that don't make him an officer!"


The book is a recounting of Steve's 26-year career in the Navy and especially some of the several key times when he felt confronted with the choice between being an officer or a gold-striped jackass. These times involved having the guts to speak truth to and even question authority as well as having the wisdom and judgment to treat human beings as human beings, not merely as useable resources. Steve's prose is clear and effortless to read; his tone is genial, affable, and conversational; and his thoughts, conclusions, and insights about leadership and responsibility are profoundly instructive. Any one from a newly commissioned officer to a shop foreman to the CEO of a multi-national corporation can profit by heeding what Steve has written in this book.

Reading it, I confess, took me longer than I had expected not only because I became so thoroughly engrossed in Steve's experiences themselves, but also because it brought back so vividly some similar experiences of my own, both as an officer and as a civilian, that I caught myself staring off into space for moments at a time as I remembered them. I've been lucky enough to encounter very, very few jackasses in my life, but the conclusion I came to a good while ago is that ONLY jackasses really NEED a gold stripe because without it they're nothing. Real officers don't need a stripe at all because their leadership and authority shine from within.


13. "Cohen's Law" by our own Steve Sloane (Ted Kramer)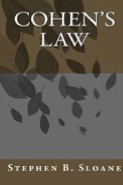 Author Sloane presents an engaging, insightful case for all decisionmakers through an amusing, philosophical and thought provoking tale. Through the eys of Cohen, decisions depend on which end of a telescope one perceives the problem, macro or micoscopically, that is, whether from a long view of a problem that results in "a singular idea about what has been observed" or bringing the observer closer to the problem to think individually about a variety of factors that caused a problem. In either case, decision makers need to read this book for its contemplative content. As a matter of course, everyone should read it to enjoy the book's entertaining and realistic tale. I couldn't put it down without thinking -- "Gracious, been there, done that!" Or, perhaps, should have done that after absorbing Cohen's successes and failures in "implementing" his Law. Recommend it for all! Great reading!

16. "One Magnificent Bastard: BGEN William Wiese, USMC (ret.)" by Fritz Warren, Bill Hamel, and Bob Rositzke (Bob Rositzke)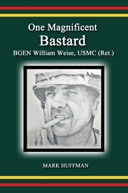 Early this December RH Rositzke & Associates published the illustrated book "One Magnificent Bastard: BGEN William Weise, USMC (Ret.), authored by Mark Huffman. It is now available on AMAZON in book and Kindle formats. Also hard cover versions are available. See below. The undertaking was sponsored by our classmate Fritz Warren with technical assistance from classmate Bill Hamel. It is the very moving life story of Bill Weise, an incredible warrior and human being. Fritz served as XO to Bill Weise, in Vietnam, when Bill commanded the 2nd Battalion, Fourth Marines known as "The Magnificent Bastards" during the very bloody Battle of Dai-Do. This book has received very positive endorsements from former Senator Jim Webb, General Peter Pace, former Chairman of the Joint Chiefs of Staff, and four other Marine Corps Generals. Bob Rositzke says that it was a very real pleasure for me, personally, to be able to work on this very meaningful project with Fritz and Bill
.
Excerpts from book endorsements provided by distinguished Marines:

"If in America, our experiment in freedom and democracy is to survive, every generation will need combat leaders of Bill Weise's stature."… General Jim Mattis, USMC (Retired) -11th Commander of U. S. Central Command in Afghanistan and NATO Supreme Commander Transformation

"…his devotion to Corps and Country, and to those with whom he served epitomizes the deepest meaning of "Marine". America is blessed by the likes of a few good men like Bill Weise" …General Carl Mundy, USMC (Retired) – 30th Commandant of the Marine Corps

"For those who are introduced to "Wild Bill" in these pages, you will come away with an appreciation for how the Corps develops great leaders –and how great leaders enrich our Corps!"…General Peter Pace, USMC (Retired) -16th Chairman of the Joint Chiefs of Staff

"...You will marvel at his superb leadership skills, his brilliant tactical maneuvers under the stress of heavy combat, his exceptional courage and heroism under fire, the intense high standards he maintained in all of his commands…." General Al Gray, USMC (Retired) -29th Commandant of the Marine Corps

"… Bill was known as a warrior, a Navy Cross winner who thrived on challenge. He was known to lead by example. His view of the Corps was forged and tempered in close combat…."… General Joseph J. Went, USMC (Retired) –Assistant Commandant of the Marine Corps

"… Dai Do stands out as one of the fiercest and most complex engagements of the Vietnam War. The leadership of General William Weise will be remembered as one of the center pieces of that historic battle…." James Webb, Marine and former US Senator, Virginia

Sorry that I cannot make the below Flyer Interactive. Use the below info to order. I understand that a DVD , "Memories of Dai DO" will be included with orders for the hard cover version but not with soft covers from Amazon.