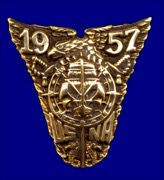 DECEASED CLASSMATES WHO DIED IN SERVICE

Photos From A Recent trip to the Yard!
Gary Pelphery Sends!


Maybe it's just a morbid streak in me, but whenever I wind up in Maryland, I try to finagle my way to Annapolis, and in to USNA. This last step by the way, turned out to be easy this year, even for us non-retirees, just with a handicapped car tag, our driver's license, and our beaming young faces.

In any case, I went to Mem Hall, and to the corner of '57 classmates who died in service to our country. The 4 photos attached are their names. For your info, our class list is in the corner closest to where the Reina Mercedes used to be.

It's not clear to me what "in service" means; it certainly does not require "in combat" - the second name on the list, Al Senior, Jr., died in a carrier landing a couple of years after we graduated. And "in service" apparently doesn't include 'service' at USNA, since Glenn van Gronigen is not listed there, but, as best I can recall, he was fully performing his assigned duties in the 23rd Company.

Anyhow, I'm sending the photos. Use them in any way you want; I'm not sure if they've ever been presented to either the chat group or the class web page.

Gary

Pardon the overlaps but I'm not sufficiently capable of fixing that issue.

Webmeister!