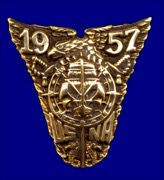 DECEASED CLASSMATES WHO DIED IN SERVICE


The below is from Frank Parker who discovered the information.

There is a web site that is a virtual Memorial Hall where all USNA grads who died while in service are honored. Besides being honored in Memorial Hall at USNA, this website contains by graduating class: photos, biographies and remembrances which have been sent in by friends and families for each grad. Thirty-Eight of our '57 classmates who died serving our country are on this website. Reading their memorials is tough. But visiting all Thirty-Eight was the least I could do, and I'm glad I did.