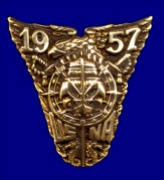 CLASS FINANCES



This page provides information regarding the financial affairs of the Class other than those concerning our Chair in Naval Heritage which is managed by the Foundation. Reports of that account are published on a sub-page, "Chair Correspondence Received" , under "Chair in Naval Heritage". Any questions should be referred to either The Prez or to Bob Crouch who serves as our auditor.

September 22, 2020
Treasurer's Report
Subject: FY 2020 Audit of Class of 1957 Accounts
My report is later than usual due to a delay in getting final FY 2020 numbers from the Alumni Association.
The first part of this report addresses the five accounts over which we have a substantial degree of control. They are our Navy Federal Credit Union (NFCU) "National" accounts, checking and saving; Washington DC Chapter accounts, checking and saving; and our checking account with the Naval Academy Alumni Association and Foundation, hereafter NAAA&F. Fiscal Year 2020 beginning and ending balances, along with the change, for each are shown in the table below.

| | | | |
| --- | --- | --- | --- |
| ACCOUNT | June 30, 2019 | June 30,2020 | CHANGE |
| National Operating | $1,206.65 | $3,530.92 | $2,324.27 |
| National Saving | $28.83 | $28.95 | $0.12 |
| Wash DC Chapter Operating | $2392.37 | $2802.73 | $410.36 |
| Wash DC Chapter Saving | $95.55 | $95.79 | $0.24 |
| NAAA&F Checking | $29,597.75 | $23,419.63 | ($6,178.12) |
National Operating (NFCU):
There were three "draws" on this account during FY 20 – $1,500 to the Graduate Hotel (formerly Lowes) in Annapolis as a deposit for our 65
th
Reunion, $75 for guests at our September lunch, and $95 to Peter Junghans for our Army Navy Country Club Christmas Party guests, our Chair Professor and his wife. The remaining difference is $20.00 from service charges in July and August, the transfer of $4,000 from our NAAA&F account into this account in August 2019, and interest earned.

DC Chapter Operating (NFCU):
A review of the fiscal year in the check book is decidedly uninteresting. Except for a check to George Philipps for Valentine favors, it is lunch check deposits and reimbursements to Jerry Smith for the difference between cash received and the amount due the Fort Myer Club. We had eight luncheons with the math indicating we have been clearing about $50 per luncheon. Of the balance in this account, $807 is partitioned as the 24
th
Company "flower fund".

National and DC Chapter NFCU Savings:
Both are required by NFCU policy and show modest gains due to interest over the fiscal year.

NAAA & F Checking:
The net decrease in this account is the result of an income from investments of $341.88 and debits of:
$4,000.00 Transfer to the Class NFCU account in August 2019, noted above
1,000.00 Alumni Hall Chair Medallion for former Class Secretary, Paul Behrends
1,000.00 Alumni Hall Chair Medallion for former Corresponding Secretary, Fred Howe
520.00 Contribution to 22
nd
Company Wardroom for our share of the 22
nd
Company Wardroom Check. The balance to achieve the $1,000 check is $480 provided by our "Link Class" of 2007.


Chair in Naval Heritage Funds

I include the following for completeness and trust it is consistent with the information and explanation provided by Bob Crouch and supplemented by Bill Peerenboom.
6/30/2019 Balance $2,102,030
Gifts 26,067
Management Fees (23,811)
Investment Income 98,548
Chair and or Post Doc Costs (100,000)
6/30/2020 Cash Balance 1,802,834
Outstanding Pledges 300,000
Balance + Outstanding Pledges 2,102,834
There is an additional $5,252 in our Chair Fund, an annuity, carried as a separate line.
Respectfully submitted,


Don Regenhardt
Treasurer